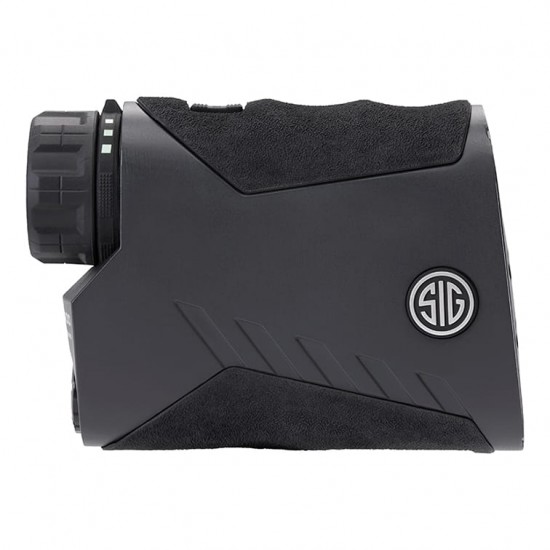 KILO 2000 Range Finder 7x25mm, Graphite
Sig SauerKILO 2000 Range Finder, Laser Range Finding Monocular 7x25mm, Graphite 


Extreme accuracy is what we were after when we engineered the KILO2000. ? Updating at 4X per second in HyperScan mode, the KILO2000 rangefinder with patented LightWave? DSP technology is amazingly fast as well. Couple that with the ability to range reflective targets at 3400 yards, trees at 1500 yards, and deer at 1200 yards for simple, intuitive long distance ranging. The built in inclinometer calculates AMR? Angle Modified Range for angled shots. Our proprietary Lumatic OLED Display?, automatically adjusts display intensity to match ambient light conditions, bright in bright conditions and dim in twilight to protect your eye. The KILO2000?s simplified user interface displays your system status and while ranging, only provides your necessary data.



The Kilo2000 will become the simplest, fastest and most accurate laser rangefinder you have ever used. Designed for hunters, archers, military, law enforcement and competitive shooters, the Kilo2000 is capable of ranging over a mile with results to the nearest 1/10 of a yard, at the speed of light.




The KILO2000 will range over a mile with results displayed to the nearest 1/10th yard

Revolutionary Lightwave? DSP technology enables the KILO2000 to range faster at longer ?distances with increased accuracy. In scan mode, it refreshes at an ultra-fast 4X per second.

Features our proprietary Lumatic OLED Display?, an ambient light sensor which continuously monitors light conditions and adjusts the display brightness accordingly

Features AMR? (Angle Modified Range) compensation to give you a true shooting range by ?analyzing the line of sight range and shot angle

Multi-position twist-up eyecup provide a custom fit for each user

Dependable waterproof (IP X-4) and fog-proof performance

Lightweight magnesium body and a compact form
Model:

KILO 2000 Range Finder 7x25mm, Graphite

SKU:

KILO 2000 Range Finder 7x25mm, Graphite