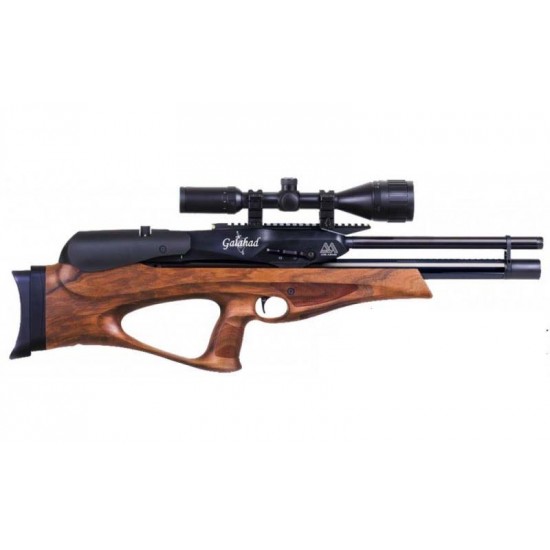 Out of Stock
Gun Scopes & Accessories
Images are for display purposes only. Unless stated the price of a rifle may not include scope, silencers or accessories.
Air Arms Galahad Walnut Regulated Carbine
Air Arms Galahad Walnut Regulated Carbine is the latest rifle from British based airgun manufacturer Air Arms, and is a Sport Pup design which means the action is seated to the rear of the stock, which reduces overall length whilst still maintaining a full length barrel and cylinder for superb performance.
This variation of the rifle comes with a regulated action which means that the shot count is increased, as well as the shot to shot consistency which is very important when target shooting. The rifle is available in two lengths, carbine and rifle length, with either a Dovetail (9-11mm) or Picatinny (22mm) rail.

Features of the Galahad include a new cocking and loading system in the shape of a downwards operated side lever action, which reduces movement during cocking so you can hold your aim a lot better than before. This lever action operates the same 10 shot magazine as seen on the S410 and S510, and can be moved to either side for left and right handed shooters.

Safety - Manual

Trigger - Two stage adjustable weight & length

Total Length - Carbine: 698 mm | Rifle: 798 mm

Loading - 10-Shot magazine system

Barrel Length - Carbine: 395 mm | Rifle: 493.5 mm

Weight - Carbine: 3.6 kg | Rifle: 3.7 kg

Maximum Power - 12 ft/lbs / 16j

Stock:

Out of Stock

Model:

Air Arms Galahad Walnut Regulated Carbine

SKU:

Air Arms Galahad Walnut Regulated Carbine

Air Arms