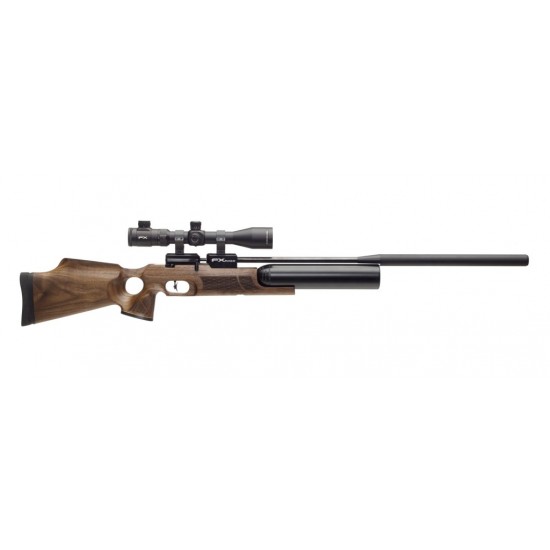 Out of Stock
Gun Scopes & Accessories
Images are for display purposes only. Unless stated the price of a rifle may not include scope, silencers or accessories.
FX Boss Walnut Left Handed
FX Boss Walnut is one of the most powerful rifles in their line up delivering over 75 ft/lbs of power through a .30 calibre pellet, ideal for long range hunting and target shooting.

The Smooth Twist barrel was custom made specifically for this rifle and calibre to achieve high velocities and outstanding accuracy which has been proven time and time again at countless competitions over the past few years. The end of the barrel is fitted with a large moderator which significantly reduces the muzzle report to increase stealthiness.
The stocks are made to an impeccably high standards with the synthetic model being covered in a soft touch all weather rubber for great durability, and the walnut with its strong grain is oiled to a high finish which makes it very hard wearing as well.

The two stage trigger is match quality for a crisp and precise let off each shot, and the regulated action with the 500cc capacity cylinder delivering around 40 shots at max power. Scope and mounts not included.

Features
Cocking Method - Sidelever

Magazine - 9 shot magazine

Calibre - 7,62 mm (.30)

Barrel - Match Grade FX Smooth twist

Length - 600 mm

Shot capacity - Approx 40 at full power

Fill pressure - Max 250 bar (3626 psi)

Safety - Manual

Muzzle - Shrouded

Trigger - Fully Adjustable Match Trigger

Approx Energy - 110 J • 82 ft/Ibs

Air capacity 0 500 cc

Length - 1195 mm

Weight - Synthetic: 3,2 kg

Charging - Quick charge system MkII

Available in Walnut Left Handed stock. 

Availabilty
At DAI Leisure, we have a large amount of stock available. However, if this gun is out of stock, there could be between 4 - 8 weeks lead time for delivery.
Please call 01384 265 151 for availability.
Model:

FX Boss Walnut Left Handed

SKU:

FX Boss Walnut Left Handed

FX Airguns