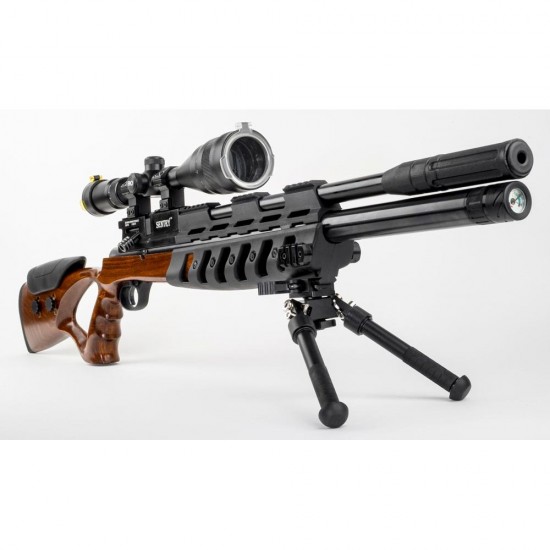 Lee Enfield Sentry Kit
Lee Enfield Sentry is a fully regulated, full UK legal limit power pre-charged pneumatic air rifle. Its magazine system is driven by a bolt action. Aimed at the budget end of the spectrum, it is intended to appeal to those looking to enter the PCP sector. The sentry features a rifled steel barrel for the best possible accuracy and precision possible. The barrel is finished off with a removeable 1/2" UNF threaded silencer. For added attachments the Lee Enfield Sentry is fitted with six 22mm weaver/picatinny rails for lasers, torches, bipods.
Includes -Two magazines (9-shot in .177, 8-shot in .22)
Single-shot tray & Filler probe
Precision-rifled steel barrel which is terminated with a removeable 1/2" UNF threaded silencer
11mm scope dovetail Six 22mm Weaver/Picatinny mounting points for Lamps, Lasers & Bipods
A set of 'in-life' spare seals and 'O' rings.
Kit includes:
Lee Enfield Century Rifle
Walther TMB II Bipod
Hawke Vantage SF 6-24x44 1/2 Mil Dot Reticule
The product is pre-order, lead times can vary, please call for availability. You can pay a £20 deposit and we will order these immediately and pay the balance on arrival. Or you can pay in full.
Model:

Lee Enfield Sentry Kit

Lee Enfield