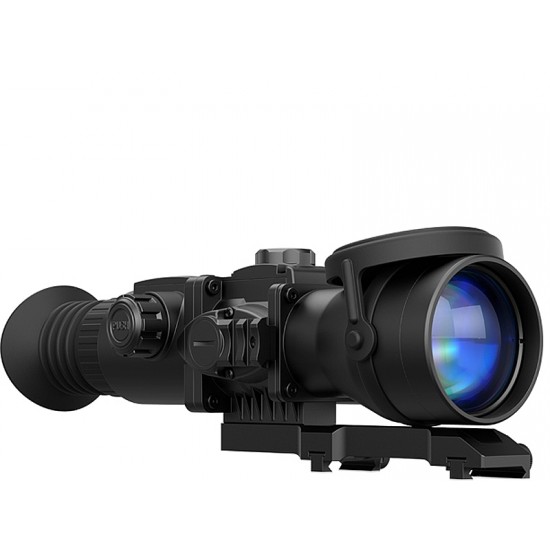 Pulsar Argus LRF G2+ 4x60
The Argus is a Generation 2+ Weapon Scope and is the world's first analogue device to feature an integrated Laser Rangefinder with electronic reticle. Combining the laser distance measurement data and aiming capabilities of the digital systems with the formidable light amplification power of the advanced NV generations, the Argus opens a new chapter in night vision functions and capabilities.
With no mechanical adjustments - the possibilities for automatic digital cross hair corrections are endless and Pulsar intends to take advantage of this capability to its fullest potential and because of this software updates will continually be made available.
Integrated Laser Rangefinder 
Precise shooting requires an exact knowledge of the distance to the target. The Argus's integrated laser rangefinder has a range of up to 500m and allows the user to measure the distance in a single measuring mode, as well as in scanning mode with precision of up to 1 meter (yard).
THD & AoE 
When shooting in conditions of changing landscapes and from elevated distances, it is recommended that users use the THD (True Horizontal Distance) measuring mode - in this mode the rangefinder takes into account the angle of a shooter's elevation relative to a target (AoE; it's value is also displayed on the screen) and calculates true horizontal distance to an object.
Selectable Reticles 
The Argus's LRF has 4 built in electronic reticles (digitally introduced in the field of view) with adjustable brightness and all of which were designed to suit different purposes and configurations, providing the user with more options to cater for their situation specific needs. 
3 Types of Zeroing Parameters Memorisation 
The software allows the user to save three points of impact for three various distances (types of weapon or cartridges) in the rifle-scope's memory. Each option allows the use of a dedicated reticle. 
High Shock Resistance The Argus LRF rifle-scope features a high shock resistance and can be used with rifled hunting weapons and with cartridges, such as 9.3 x 64, .30-06, .300, .375. etc, as well as with smooth-bore and airsoft weapons. 
Built-in IR illuminator 
The Argus LRF riflescope is supplied with a removable laser IR illuminator (780nm) complying with Class 1 laser safety and features three-step power adjustment. 
Wireless Remote Control 
The wireless remote control allows the user to perform basic operations without touching the unit. 
Protective Lens Cap 
The protective lens cap is permanently attached to the body of the unit to prevent it being lost and can be slid back down when observing or shooting. 
Nitrogen-purged Optical Path 
Nitrogen-filled optical channel protects inner optical parts and body of the sight against fogging, which is often caused by rapid temperature change. 
Fully Waterproof 
Ingress protection class IPX7 (IEC60529 standard) allows the user to use the rifle-scope in any precipitation conditions and the Argus LRF is capable of surviving being fully immersed underwater. 
Features: 
- Generation 2+ 
- Up to 600m detection range
- Integrated laser range finder (600m) with THD and AoE functions 
- 905nm laser rangefinder wavelength
- 780nm IR illuminator wavelength 
- Durable body
- Updatable software
- Large caliber shockproof (.375 H&H ready) 
- Nitrogen-purged optical path
- Waterproof with IPX7 protection
- Four selectable electronic reticles integrated within the unit
- 3 Types of zeroing parameters memorisation 
- One shot zeroing 
- Eye-safe laser IR illuminator with 3-step power adjustment 
- Wireless remote control 
- Optimised ergonomic controls 
- Operating temperature -25°C- +50°C 
- Weaver mount provided with various other mounting options, available as accessories 
(Weaver Long, Weaver-Auto, Los, AK Side Mount, Prism 14/200, MAK Adapter)
Model:

PU-76081

SKU:

PU-76081

Pulsar