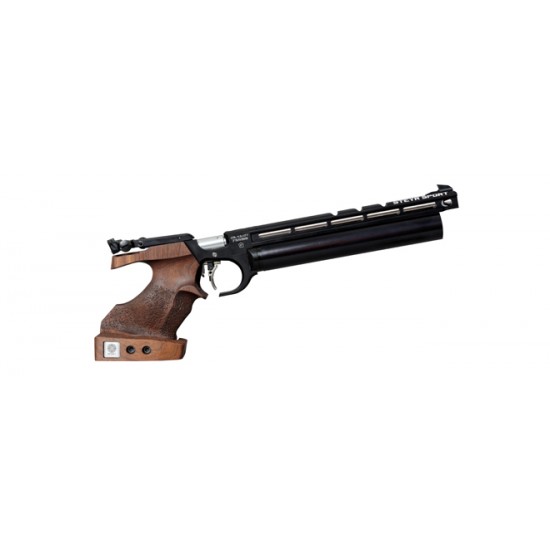 Steyr EVO 10 Compact
Steyr EVO Compact
NEW: 8 duct compensator
Rotable front sight and rear sight
Patented STEYR Stabilizer from the nearby unbeatable LP 10
Three barrel vents steady the weapon additionally when shot is released
Infinitely adjustable STEYR precision ball bearing trigger
Maximum safety: shot only possible when bolt is fully closed
Pistol available in silver or black, with compressed air cylinders in silver,
black, blue or gold, thirteen different redesigned grips available
Specifications
Action type: Single-shot pistol for pellets
Propellant: Compressed air
Calibre: 4,5 mm (.177)
Length / height / widht: 400 / 148 / 50 mm
Weight: 968 g
Length of sight: 316 - 365 mm
Front sight: moveable, rotable frint sight 4,5 mm
Rear sight: rear sight 2 - 6 mm variable, depth 1 - 3 mm, rotable
Trigger pull: 500 g
Trigger settings: first stage length & weight, second stage weight, trigger stop
Trigger blade adjustable: Trigger blade adjustable in height and length, axially and radially



PLEASE NOTE THESE GUNS ARE TO ORDER WITH A 8-10 WEEK WAIT!!
Availabilty
At DAI Leisure, we have a large amount of stock available. However, if this gun is out of stock, there could be between 4 - 8 weeks lead time for delivery.
Please call 01384 265 151 for availability.
Model:

Steyr EVO 10 Compact

SKU:

Steyr EVO 10 Compact

Steyr