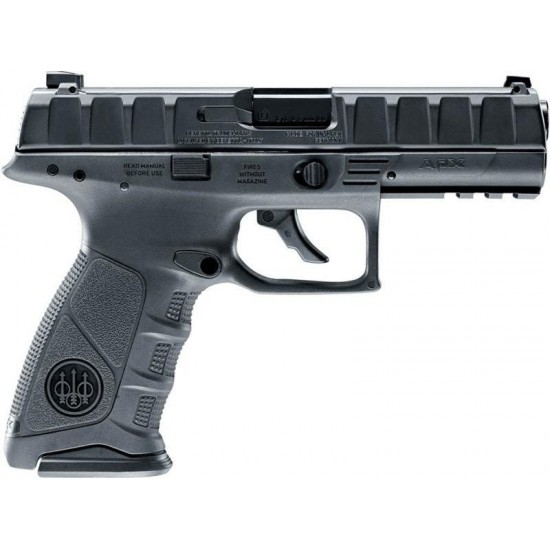 Umarex Beretta APX Black
The Beretta APX combines excellent performance with stylish good looks to create a pistol that looks great on display, but shoots just as well.
The action is powered by a 12g CO2 capsule which provides between 50 and 60 shots per each capsule and propels 4.5mm steel BBs from the barrel which fantastic velocities.
The slide is made from metal to make it very strong so that it doesn't wear fast, and last for years to come.
The frame is made from a high impact polymer which is textured on the grip for a solid feel and grip when shooting.
Also on the grip is the magazine release button which allows the magazine to drop out from the bottom of the pistol to reload the co2 and BBs.
The underside of the frame also has a weaver rail for the fitting of a torch or laser so assist in target acquisition.
Specification:
Calibre : 4.5mm BB (.177)

Capacity : 19 rounds

Velocity : 120 m/s (393 ft/s)

Length : 190 mm

Weight : 666 g

Per capsule : 50 Shots

Model:

Umarex Beretta APX Black by Umarex

SKU:

Umarex Beretta APX Black by Umarex

Beretta