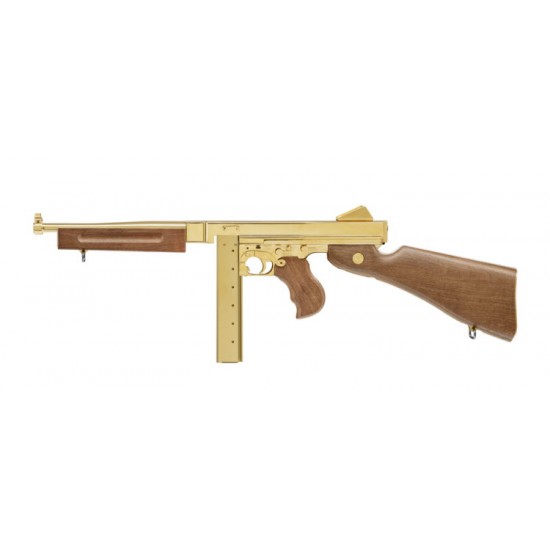 Gun Scopes & Accessories
Images are for display purposes only. Unless stated the price of a rifle may not include scope, silencers or accessories.
Umarex Legends M1A1 Gold
Umarex Legends M1A1 Gold

Pick up more than history when you pick up the semi-auto Umarex Legends M1A1 BB Rifle! Not only is this one of the coolest historical replicas done, it feels right, it looks right, and is guaranteed to be a crowd-pleaser. This open-bolt wonder features a 30-round magazine that houses two, 12-gram CO2 cartridges and is equipped with sling mounts for your favorite historical sling. Sometimes called the "Chicago Typewriter," you'll recognize this historical gun shape from both wartime history and the big screen. It's so much fun to shoot, you might just want to get an extra magazine or two.
Features
Feel the realistic weight, recoil, and 100 years of history when you pick up this amazing reproduction M1A1 BB rifle
The semi automatic, 4.5mm caliber steel BB rifle has a full metal frame with a smooth bore, 12" barrel and fixed front and rear sights
The 1911 A1 styled replica has a 30-round, drop-free high capacity magazine that also houses two, 12-gram CO2 cartridges
It is 31 3/4" overall, weighing in at 7.75 lbs, and it has a manual safety
Model:

Umarex Legends M1A1 Gold

SKU:

Umarex Legends M1A1 Gold

Umarex