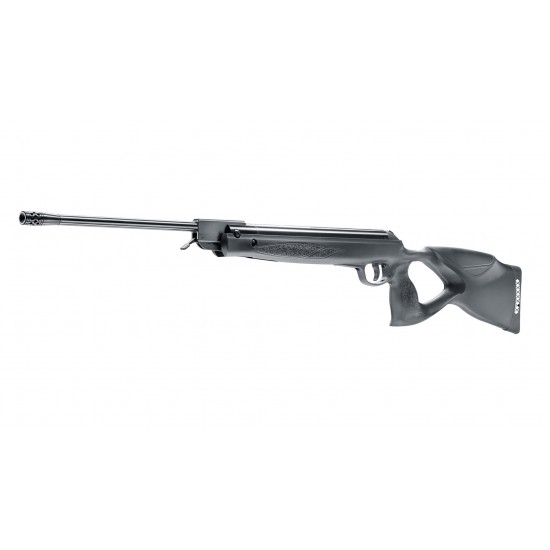 Gun Scopes & Accessories
Images are for display purposes only. Unless stated the price of a rifle may not include scope, silencers or accessories.
Walther Century Varmint
Walther Century Varmint

The Century from Walther is a tried and tested workhorse in the world of spring powered break barrel air rifles, and this latest Varmint model includes a synthetic thumbhole stock for improved comfort and ergonomics when shooting for greater accuracy.
The action of the Walther Century is the standard spring and piston powered action which has been carefully engineered to provide smooth and consistent power delivery on each shot, and full power energy levels. The break barrel which cocks the action is locked into place once cocked and loaded to ensure perfect barrel alignment for superb accuracy.
The trigger is the famous Walther XT trigger system which provides a crisp and clean release on each shot and can be adjusted to your liking. An automatic safety helps prevent accidental discharge of the rifle, and is placed at the rear of the action for quick and easy disabling.
The barrel is made by Walther from steel and is finely rifled for only the very best when it comes to accuracy, and is threaded on the end for the fitting of a silencer, and comes as standard with a muzzle break. Scope and mounts not included.
Specification
Calibre : .22 Pellet
Max Muzzle Energy : 11.5 ft/lbs (16 joules)
Length : 1100 mm
Weight : 3.6 kg
Model:

Walther Century Varmint

SKU:

Walther Century Varmint

Walther