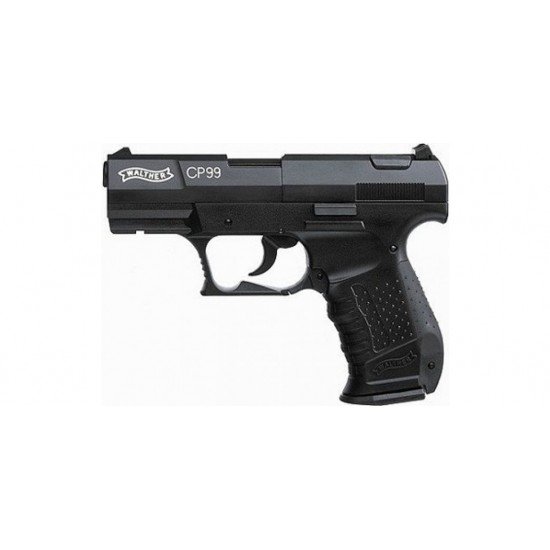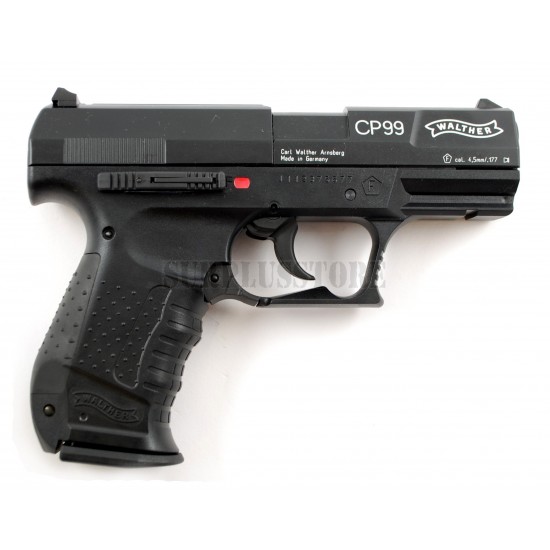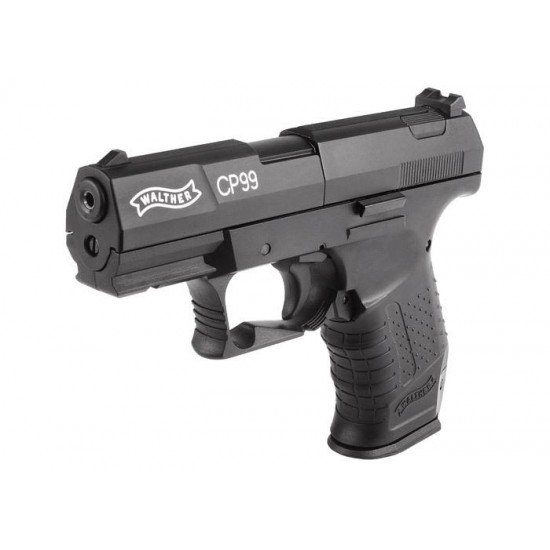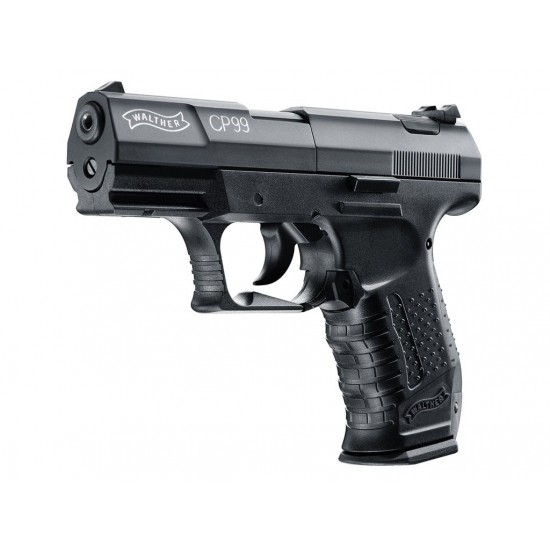 Walther CP99 Black
Walther CP99 Black is modeled after the original Walther P99 and once used by the most famous double agent in the world, this 8-shot semi-automatic repeater offers both accuracy and durability. The Walther CP99 features a rifled barrel, decocking safety, drop out CO2 magazine, and comes with two 8-shot rotary magazines for quick airgun action. Comes in a foam-lined plastic gun case.
Strong Construction

Umarex produce a range of high quality, realistic air pistols under license from the respective manufacturers, with this version of the Walther CP99 being a prime example. All of the proportions in terms of weight, size, and handling are as per the original, and the performance is excellent as well. 
Pellet Firing
The pistol uses an 8 shot magazine which takes the standard .177 air gun lead pellets, and these pellets are then fired down a rifled steel barrel. This barrel has been precisely made to ensure some of the best accuracy and consistency currently available. All this adds up to make the CP99 a perfect choice for target shooting and plinking purposes. 
CO2 Power
Powered by the standard 12g co2 capsules, each one is loaded into the magazine which drops out from the grip for easy and solid loading of each one. Being a non blowback pistol, each capsule can provide up to 80 shots making the Walther CP99 perfect for those extended plinking sessions. 
Sights
The Umarex Walther CP99 is fitted with open sights as standard so that you can be on target, and additional sight accessories are sold separately so that you can customize your air pistol to your requirements. A front underside weaver rail permits the addition of accessories such as lasers and torches.
Used by police, marksmen and collectors world wide the CP99 is used by all. The fast action system allows quick loading and even quicker discharge of the pellets. Also comes complete in a hard case.
Specification
Length : 180 mm

Barrel length : 84 mm

Weight : 726 g

Mag. Capacity : 8

Approx Power : 2.3 ft/lbs

Ammo Type : .177 Pellet
Model:

Walther CP99 Black

SKU:

Walther CP99 Black

Walther