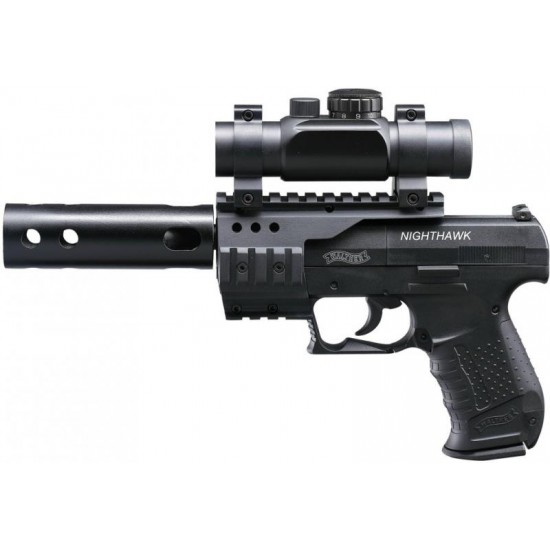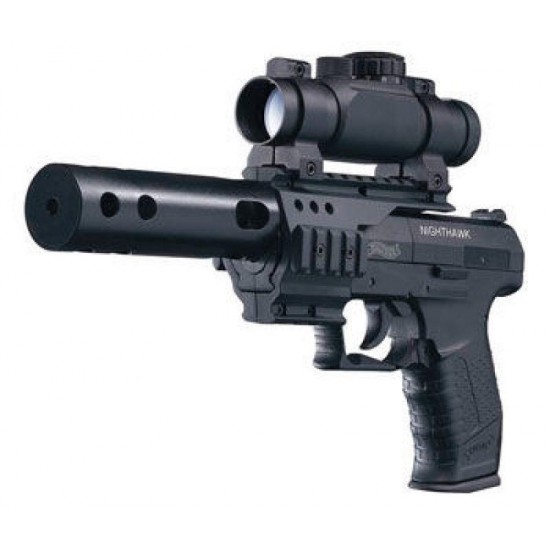 Walther Nighthawk .177
Walther Nighthawk .177 CO2 Pistol is one of the best selling pistols in the world. The Walther NightHawk comes with a compensator, Walther red dot point sight which has 11 brightness settings, a CO2 repeater system powered by 12g CO2 capsules. Simply put, the Night Hawk CO2 Pistol has the coolness factor. It shoots 8 pellets as fast as you can pull the trigger and just looks cool and powerful.
The NightHawk air gun is modeled after Walthers popular P99 pistol. In addition to the airgun accessories, The NightHawk comes in a foam-lined plastic gun case with two 8-shot rotary magazines.
Caliber - .177 Pellet

Power Source - 12 g CO2 cartridge

Magazine Capacity - 8 shots

Approx Muzzle Energy - 2.5 ft/lbs

Length - 248 mm

Barrel length - 85 mm

Weight - 960 g

Trigger - Double Action

Model:

Walther Nighthawk .177

SKU:

Walther Nighthawk .177

Walther