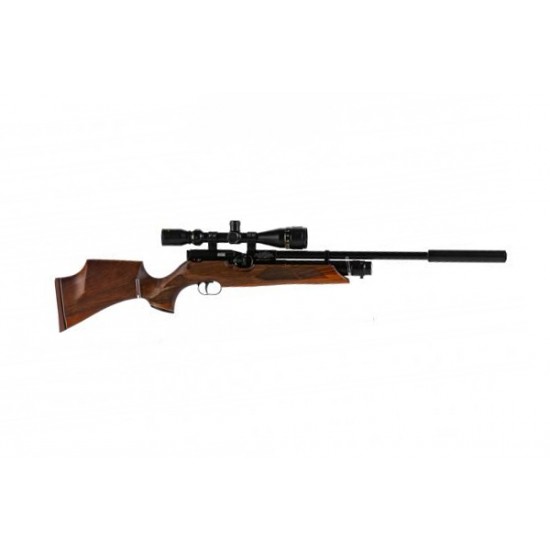 Gun Scopes & Accessories
Images are for display purposes only. Unless stated the price of a rifle may not include scope, silencers or accessories.
Weihrauch HW100 KS FSB
Weihrauch HW100 KS FSB, this rifle has established itself as a market leader, and is fast becoming a favourite with hunters and FT shooters alike. With Weihrauch legendary build quality and supreme accuracy as standard. It's place in the top tier of air rifles is easily understood. This model is yet another evolution in design and performance from this top German manufacturer.
This model is also fitted with a very comfortable sporter stock. seemingly prefered by the non hunters amongst us. As soon as your start shooting with the Weihrauch HW100 you will immediately be aware of the abilities of this rifle, It is one of the best rifles you will ever use.
The HW100 is without doubt one of the quietest most accurate rifles on the market today. Packed with features to suit every shooter. The rifle comes with two 14 shot magazines, a removable quick fill air cylinder with pressure gauge, and can be fitted with the brand new Weihrauch Fully Shrouded Barrel silencer.
Added to this is the stunningly simple and effortless biathalon type loading system. This rifle can easily be reloaded without it having to be unshouldered. It's surely a hunter's delight to be able to take that second shot quickly and accurately should it be required. Scope not included. Please Call To Check Availability.
Action Type - Pre Charged Pneumatic

Trigger Type - Match

Barrel Length - 253mm

Weight - 3.1kg

Overall Length - 890mm

Maximum Power - 12 ft/lbs | 16J

Model:

HW100 KS FSB

SKU:

HW100 KS FSB

Weihrauch
Make Sure It's Hull Cartridge

NOTE: Hull Cartridge are the official UK distributor for Weihrauch guns. All our Weihrauch guns are supplied and stamped by Hull Cartridge.
WARNING: Any grey imports will have no official UK Warranty.
Tags:
weihrauch hw 100 ks fsb
,
100
,
f.s.b.
,
precharged air
,
rifles hw100sk skfsb hw100skfsb hw100ksfsb
,
hw 100
,
weihrauch hw100
,
ks fsb walnut
,
walnut fsb hw 100 weihrauch
,
rifle
,
rifles
,
air
,
weihrauch karbine sporter fsb
,
fsb karbine weihrauch
,
fsb carbine
,
carbine weihrauch fsb
,
fsb weihrauch
,
fully shrouded barrel
,
weihrauch hw100 fully shrouded barrel
,
weihrauch hw100ks fully shrouded barrel
,
weihrauch hw100 ks fully shrouded barrel