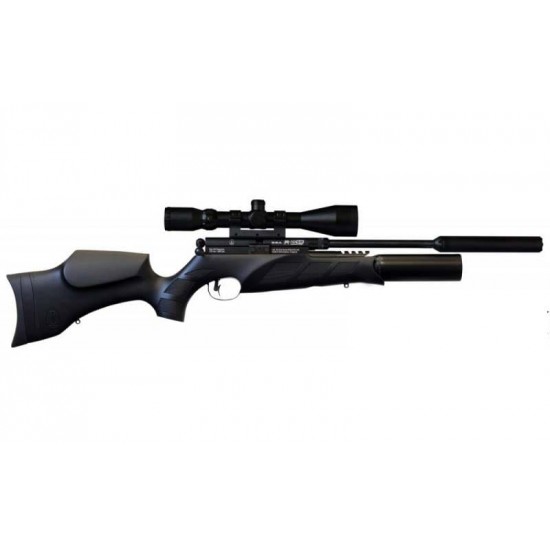 Gun Scopes & Accessories
Images are for display purposes only. Unless stated the price of a rifle may not include scope, silencers or accessories.
BSA R10 SE Super Carbine Black Edition
BSA R10 SE Super Carbine Black Edition is the latest creation of BSA and takes the much revered R-10 MK2 and improves on it to for the best in flexibility and usability. The current R-10 has the choice between a barrel shroud or silencer, but the R-10 SE includes 2 in 1 with the Customer Configurable Shroud (CCS) which allows you to remove or add the shroud onto the rifle in a matter of minutes. The shroud is also slightly smaller in diameter to help in fitting larger scope lenses.
The action has an improved regulator which increase the shot count by 11% for more shots per charge, and the shot to shot consistency and accuracy is much better than before. The 2 stage trigger can be finely tuned to your requirements and the release is crisp and predictable each shot.

The stocks are made by Minelli in Italy to specific standards and the rear of the stock now has a multi adjustable buttpad for superb comfort. This rifle comes with 2 x Magazines and all the necessary filling adaptors. Scope and mounts not included.

Specification
Magazine Capacity - 10

Fill Pressure - 232

Shots per fill - 250

Overall Length - 94 cm / 37 in

Barrel Length - 30 cm / 12 in

Maximum Power - 12 ft/lbs | 16J

Weight - 3.1 kg / 6.9 lb

Model:

BSA R10 SE Super Carbine Black Edition

SKU:

BSA R10 SE Super Carbine Black Edition

BSA