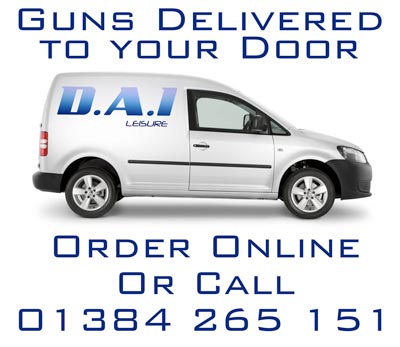 DAI Leisure are pleased to offer our 'Gun Delivery Service'. When a customer buys a gun from our website or over the telephone we can now deliver it straight to their door anywhere in England and Wales.

How the DAI Gun Delivery Service Works
Due to Government Legislation introduced in 2007 all air guns, air rifles, air pistols, and silencers must be sold face to face by a Registered Firearms Dealer (RFD).
Shotguns, FAC Rifles, and ammunition have always had the requirement that they are sold on this basis.
As an RFD, we can deliver these items directly to your front door if you live in England and Wales. DAI offer this personal to your door delivery service of Airguns for the competitive price of £19.95. (*Your Total Order Value must exceed £150).

Because the final transaction has to be conducted face to face by an RFD, we cannot send these items with a courier.
Delivery of your order


Normal Orders

If you have placed an order for anything on our web site other than an airgun, rifle, shotgun or silencer. Including pellets, a gun bag, scope or accessories (not a firearm or silencer) then you can expect your order to arrive by normal courier service within 2-3 days.
Firearms / Airgun Orders

If your order includes an air rifle, air pistol, shotgun, cartridges, rifle, firearm ammunition, a silencer or a kit, then UK Laws means that the order must be signed for by the person paying for the order, and we need to see proof of ID. If the item you have ordered is in stock, we will deliver it within 14 days. We deliver to most areas once a week. The 14 day is reserved for more remote areas including Cornwall, Newcastle, Cubria, parts of Kent and a few other remote areas. If you would like a better idea of how long your gun delivery will take before ordering you call call 01384 265 151 and choose option 2 to speak to our gun delivery team.

If you are purchasing a rifle or shotgun, you will need to send us proof of your firearms certificate or shotgun licence before or after your purchase, to fac@daileisure.co.uk.


Airsoft Orders


If you are purchasing a 6mm airsoft rifle or pistol. You will need to provide your UKARA membership details. Please enter your membership number in the 'Additional Instructions' during checkout.
In order to qualify as an active player, you must attend the same game site a minimum of three times in two months. Head to the UKARA site to learn more.
Delivery Times & ID Licence Checks
Once we have successfully received your order and verified that the appropriate amount of money has been received, you will be contacted to arrange a convenient time for us to personally deliver your order.
We can also deliver to your work address, however please be aware that you would be required to take suitable photo I.D and proof of home address with you on the day.
It is vitally important that the actual person buying the Airgun or firearm is present at the point of delivery in order for ID and if applicable licences can be checked and the appropriate paperwork completed.
Where do DAI deliver to?
You can order your airguns, air rifles, air pistols, shotguns, rifles and ammunition online in the UK if you live in the West Midlands, Warwickshire, Staffordshire, Worcestershire, Shropshire, Herefordshire, Gloucestershire, Norfolk, Suffolk, Essex, Cambridgeshire, Nottinghamshire, Leicestershire, Hertfordshire, Bedfordshire, Lincolnshire, Northamptonshire, West Yorkshire, South Yorkshire, North Yorkshire & East Yorkshire, Manchester, Derbyshire, Cheshire, Oxfordshire, Berkshire, Buckinghamshire, Wiltshire, Hampshire, Surrey, East Sussex & West Sussex, Kent, Northumberland, Cumbria, County Durham, Powys, Ceredigion, Pembrokeshire, Carmarthenshire, Gwynedd, Dorset, Somerset, Devon, Cornwall, Lancashire, Vale of Glamorgan, London, Tyne and Wear.
For customers that live in Scotland. Unfortunately, DAI don't deliver to that area at this current time. However, we can transfer to your local Registered Firearms Dealer where upon you can collect at your convienience. For more information, please Contact Us Here.

Visit Our Store
You can of course purchase all your air guns, air rifles, air pistols, shotguns, rifles, ammo and accessories, from our store in Brierley Hill in the West Midlands. Please bring proof of identity and age.