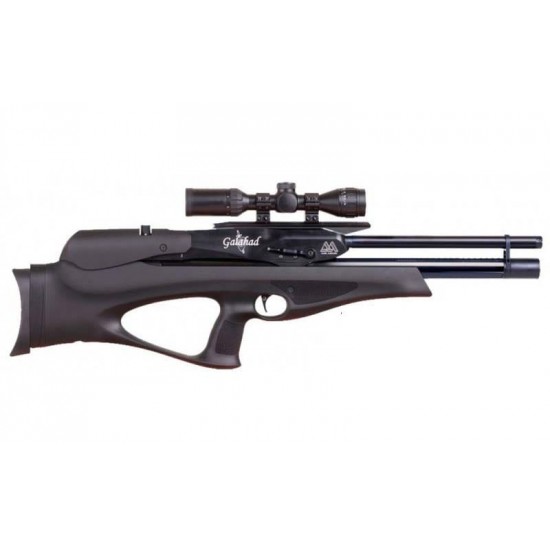 Out of Stock
Gun Scopes & Accessories
Images are for display purposes only. Unless stated the price of a rifle may not include scope, silencers or accessories.
Air Arms Galahad Black Regulated Carbine
Air Arms Galahad Black Regulated Carbine is made and assembled right here in England, the Air Arms Galahad is a Sportpup rifle with a high specification making it ideal for a multitude of purposes, and a rifle that will last for years to come.
The Sportpup format means that the action of the rifle is placed at the rear of the stock, reducing overall length considerably, whilst still keeping a long barrel and cylinder. The cocking lever is placed in the center of the action, just above the trigger which means it is easy to access, and as it operates in a downward motion, the movement required it reduced. This lever can be placed either side making it ambidextrous.

The stock is made from wood, then covered in a black soft touch rubber which makes it all weather, very grippy, and warm to the touch which ensures it is a pleasure to shoot. An accessory rail is machined on the underside of the forestock so that you can fit accessories such as bipods and slings, and has finely checkered panels on the pistol grip and forestock. The thumbhole design means that the stock is also ambidextrous to make the whole rifle 100% ambidextrous.
Specification
Safety - Manual

Trigger - Two stage adjustable weight & length

Total Length - Carbine: 698 mm | Rifle: 798 mm

Loading - 10-Shot magazine system

Barrel Length - Carbine: 395 mm | Rifle: 493.5 mm

Weight - Carbine: 3.6 kg | Rifle: 3.7 kg

Maximum Power - 12 ft/lbs / 16j

Stock:

Out of Stock

Model:

Air Arms Galahad Black Regulated Carbine

SKU:

Air Arms Galahad Black Regulated Carbine

Air Arms