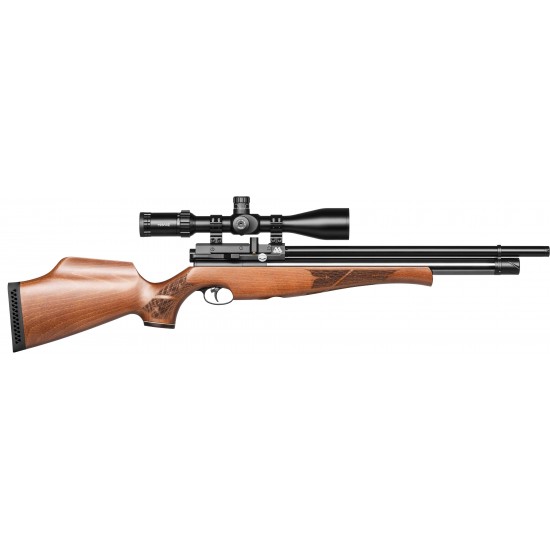 Gun Scopes & Accessories
Images are for display purposes only. Unless stated the price of a rifle may not include scope, silencers or accessories.
Air Arms S510 XS Beech
Air Arms S510 XS Beech

Available in .177 and .22 calibre, the Air Arms S510 XS Carbine gives you maximum air capacity and high power in a truly impressive package. Here, in one rifle, is everything that has made the S510 series such purposeful, practical hunting guns.
That slick, side-lever action, teamed with the XS's power-adjustable facility, with its potent stopping power guided by our specially commissioned, match quality Lothar Walther barrel, means you get more of what you need, exactly where and when you need it – every time.
The S510 XS carbine is a rifle for those who need more of everything that makes a high-powered air rifle the perfect tool for the job.
Specification
Adjustable high power output
Series 7 regulator and valve system
Fast and smooth side-lever action
10 shot magazine included
Adjustable two-stage trigger with safety
Fully shrouded match grade Lothar Walther barrel
Built-in manometer
Optional moderator
Choose your rifle length..
Model:

Air Arms S510 XS Beech

SKU:

Air Arms S510 XS Beech

Air Arms