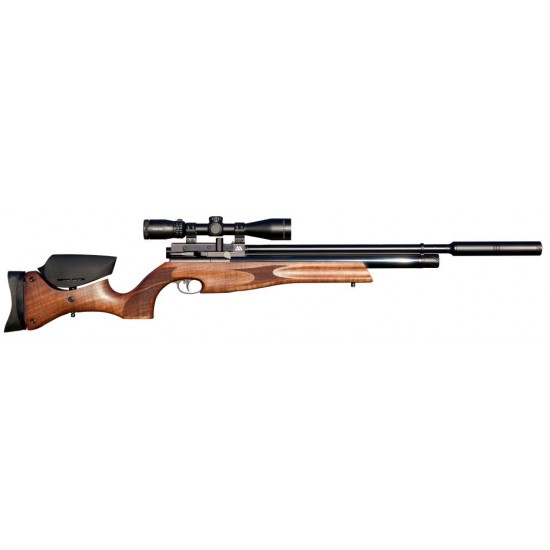 Gun Scopes & Accessories
Images are for display purposes only. Unless stated the price of a rifle may not include scope, silencers or accessories.
Air Arms S510 Ultimate Sporter R Walnut
Air Arms Ultimate Sporter R Walnut is a quality weapon.
This manufacturer has an unrivaled heritage of producing match winning field target rifles and world class sporters, and it was inevitable that the finest aspects of these superior airguns would meet in the creation of something extremely special.
The result is the S510 Ultimate Sporter, a rifle designed to give hunters the advantages that make Air Arms' FT shooters the best in the world. First, there's the proven S510 technology in a recoiless, precharged pneumatic, 10-shot action, with near-effortless sidelver cocking and loading. Add a precision, adjustable, two-stage trigger, a match-accurate, fully-shrouded barrel tipped with a calibre-specific moderator, together with the renowned Air Arms autoload system that lines up your next shot at the flick of the sidelever, and the Ultimate Sporter can't fail to impress any hunter who demands the best.
Now consider the rifle's incredible, super-tough, ambidextrous laminated stock, complete with fully-adjustable cheekpiece, sliding butt pad, integral accessory rail and sling swivel studs, and you're holding a hunting rifle that puts you in total charge of every shot. You're holding the S510 Ultimate Sporter - a rifle that truly lives up to its name.
Magazine Capacity - 10 shot magazine

Fill Pressure - 190 bar

Shots per fill - 90

Maximum Power - Up to 12ftlbs

Trigger - Two stage adjustable weight & length

Stock - Traditional Stock

Overall Length - 1124mm

Barrel Length - 495.3mm

Weight - 3.2kg

Stock:

In Stock

Model:

Air Arms Ultimate Sporter R Walnut

SKU:

Air Arms Ultimate Sporter R Walnut

Air Arms