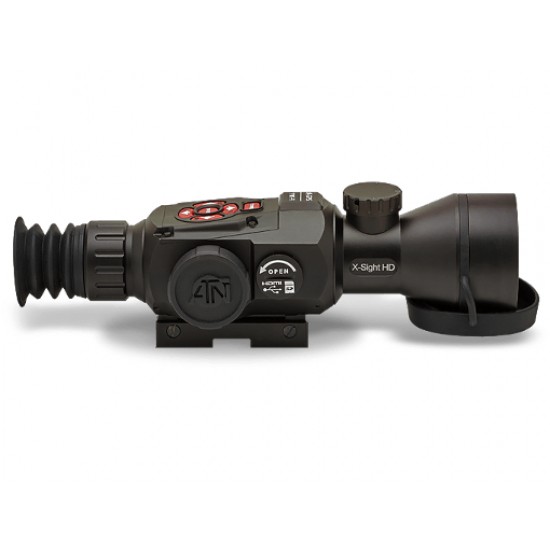 ATN Smart X-Sight II HD Day/Night Rifle Scopes
ATN Smart X-Sight II HD Day/Night Rifle Scopes
Please Make Sure Your Update Your ATN Smart X-Sight II HD Day/Night Rifle Scope as soon as you open it up to ensure you have the latest full functioning firmware to avoid and errors. 
On Board IR Torch will out perform Nightmaster Venom ! – Great Improvement on Older Models IR torch – Perfect for Air Rifle & Rimfire Shooting.
The new ATN X-Sight 2 HD 5-20×85 is powered by Obsidian II Core, utilizing HD optics and the first ever HD micro-display turns this Day/Night rifle scope into a true powerhouse. With the new ATN X-Sight 2 HD 5-20×85 you are able to make your shots at ranges previously undo able with a digital or a night scope.
The ATN X-Sight 2 HD 5-20×85 is the first digital scope to break the true HD barrier! Gone are the grainy black and white images – the ATN X-Sight 2 HD 5-20×85 takes digital imaging to a whole new level. Crystal clear images and millions of colors will have you forgetting that you are looking through a digital scope. Immerse yourself in an advanced cockpit like experience. Take advantage of the suite of sensors and advanced processing power for an entirely new shooting experience like never before.
Share the fun with your friends and family with HD video and photos that you can take day or night. No more forgetting to record those "perfect shots" with ATN's RAV (Recoil Activated Video) feature that automatically records videos before and after you pull the trigger.
ATN X-Sight II – the most powerful shooting solution on the market that will not break the bank.
Features
At billion cyсles per second, the ATN Core pushes optics into the 21th century!
Utilizing high-resolution sensor with distinct night vision capability.
The Obsidian Core is a highly specialized computer that is designed to run a suite of sensors and crunch huge files in a blink of an eye.
It is easier than setting up your smartphone and just like your phone offers plenty of customization to make your ATN X-Sight II fit your needs.
Model:

ATN Smart X-Sight II HD Day/Night Rifle Scopes

SKU:

ATN Smart X-Sight II HD Day/Night Rifle Scopes

ATN