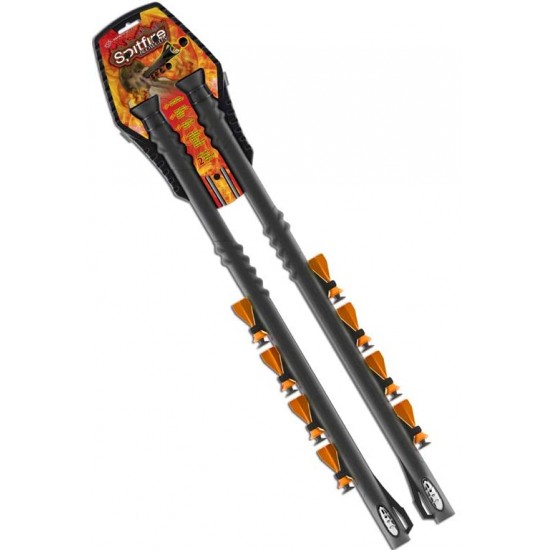 Barnett Spitfire Blowgun
KEY FEATURES:
- Fires up to 40ft
- Target Included
- Ideal for Indoors and Outdoors
- Fires Sucker Darts
- Twin pack of Blowguns
DESCRIPTION:
ready for an action packed adventure that will take your breath away in more ways then one, The Barnett's Spitfire Blowgun is the hottest new toy weapon since we introduced the Bandit toy crossbow!
With this set of Blowguns, you be able to accurately propel suction-cup darts with just a puff of air.
This Twin Pack of Barnett Spitfire Blowguns is fantastic fun for kids or adults. They are ideal for use on your own or with a mate; you can practice your aim with various target games you can makeup, This is blowdart game is ideal for birthday parties, backyard wars or loads of other types of events.
These kids Safety blowguns include two sets of four darts all with suction-cup tips that won't hurt you too much if your hit, The darts are colour coded in with one set in bright orange and the other in bright green for easy visibility and identification so you can tell who's darts are who's.
Two blowguns feature a one-way mouthpiece that prevents darts being inhaled; there is a moulded grip on the blow pipe for a firm, comfortable grip.
the blowgun is made mostly of a strong but lightweight metal, and at the front of the pipe you will also find a luminous sight the design of the blowpipe also has a cool feature that lets it hold all of the unused darts when not being used.
The kit also comes with a bright multi-color target, and we do sell spare darts, and they are available on the bbguns4less website.
Its great fun and easy to do for kids and adults alike! The suction on these is great, so they stick well to any hard flat surface and stay there.
In the pack.
2 blow dart guns, each with its own 4-piece set of darts
Target
Model:

Barnett Spitfire Blowgun

Barnett