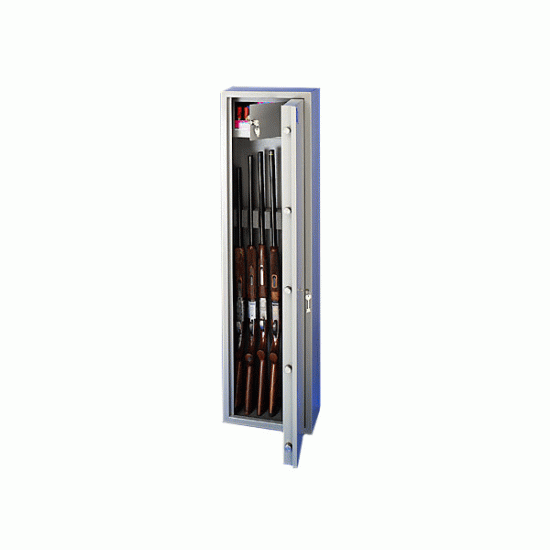 Brattonsound 9 gun Cabinet with Internal Locking Top
This gun safe has capacity for storing up to 9 guns and has an internal locking compartment ideal for ammunition or other small items. It is the Brattonsound SL9+ and is part of the Sentinel Plus Shotgun range which consists of 8 models and this is the largest from the series. Inside there is high density foam divider and a floor mat which are designed to prevent damage to your guns during storage.
For increased protection to the lock side of the cabinet there is a full length anti-jemmy bar and the door is recessed with multiple folds on the door and door housing to maximise the strength and resistance to an attack. As this model is part of the Sentinel Plus group it also has additional security features such as 5 point locking with electro plated solid steel locking bolts as well as a double skinned safe type door for added protection.
It has been built and independently tested to BS7558/92 for gun security and is 100 percent Police Approved. Constructed from 2mm thick steel which is laser cut to achieve consistent accuracy and high quality during production, this cabinet also has 14mm fixing holes in the back and base so it can be secured. It is powder coated in a durable light grey textured finish and is pre-treated for increased powder adhesion and is also tested to BS3900 Parts E2, E6, F9 and F12 for resistance to scratching, flaking, humidity and salt spray.
External Dimensions W x H x D: 407mm x 1515mm x 346mm
Built to BS7558/92 standard for gun security
High security 7 lever key lock supplied with 2 keys
Complete with internal locking compartment ideal for storing ammunition
Storage for up to 9 rifles or shotguns
Recommended by Police and MOD
High density foam divider and floor mat
Weight: 54kg
Capacity: 210 Litres

Brattonsound