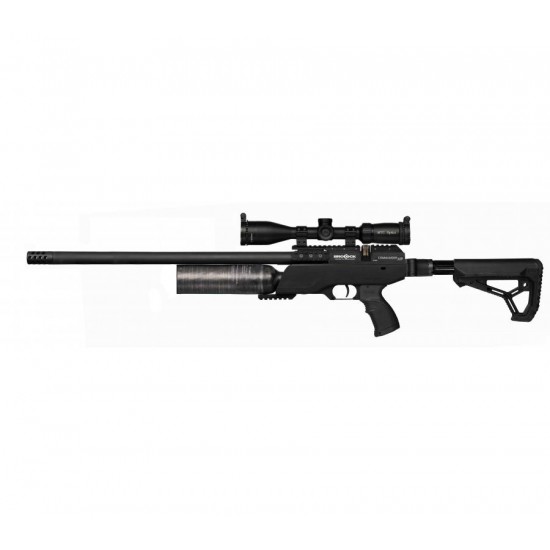 Out Of Stock
Gun Scopes & Accessories
Images are for display purposes only. Unless stated the price of a rifle may not include scope, silencers or accessories.
Brocock Commander XR Black 400cc Bottle
Brocock Commander XR Black 400cc Bottle

To maximise handling and target acquisition, the Brocock Commander features an ergonomic drop-down pistol grip and retractable stock that allows for speedy length-of-pull adjustment, while on 'export' models, the butt can also be folded via a quick-release mechanism to make it even more compact, further facilitating carriage and storage.
In keeping with its tactical looks, the Brocock Commander sports a number of practical features, from its Picatinny scope and accessory rails (with a tri-plate accessory rail option), through its in-guard manual safety catch and on-the-fly power adjuster, to its fast-throw side-bolt – the latter allowing quick cycling of the 10-shot, removable rotary magazine.

A single-shot tray is supplied for more deliberate loading, however. Further hi-tech features come in the shape of a full-length barrel shroud cum reflex silencer and ported muzzle brake – all designed to maximise all the accuracy on offer from the Brocock Commander's Lothar Walther barrel, regulated action and totally recoil-free firing cycle.
Features
• Multiple power settings via side power adjuster
• Removable self-indexing 10 shot rotary magazine with single shot tray supplied
• Revised hammer and valve assembly
• Two-stage trigger
• Resettable safety catch
• Ambidextrous polymer or grey laminated stock
• Adjustable cheek piece and 2D adjustable butt pad (XR)
• Collapsible stock (Commander XR/Concept XR)
• Underside Picatinny rail
• Full length, built-in fully baffled moderator with adaptor for second stage silencer
• Mini shroud available (removes internal silencer)
Specification
• Available Calibres: .177/4.5mm, .22/5.5mm and .25/6.35mm (FAC only)
• Power: Model/territory dependent – from 12ft/lb to 55t/lb (16-75J)
• Overall Length: From 820mm (32in) – model dependent
• Barrel length options: 432mm (17in) or Magnum 600mm (23in)
• Typical weights: 400cc - 3.1kg (6.8lbs); 500cc – 3kg (7.3lbs); 480cc carbon-fibre HiLite – 2.9kg (6.4 lbs)
• Dovetail width: 11.5mm with optional 20mm Picatinny (standard on Commander XR)
• Valve Type: XR – non-regulated; Sniper XR, Commander XR, Concept XR – Huma-Air Regulated
• Trigger: Two-stage, adjustable.
This product is pre-order, lead times can vary, please call for availability. You can pay a £20 deposit and pay the remaining balance on arrival. Alternatively, you can pay for the item in full and we will call you as soon as they're in stock. For anymore information, please call 01384 265151, or email support@daileisure.com.
Model:

Brocock Commander XR Black 400cc Bottle

SKU:

Brocock Commander XR Black 400cc Bottle

Brocock