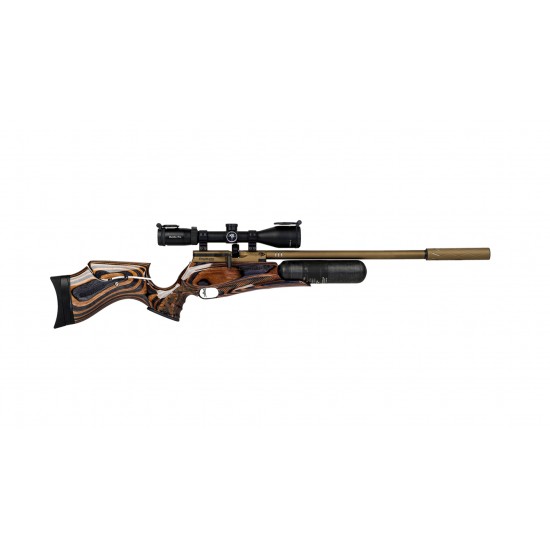 New
Gun Scopes & Accessories
Images are for display purposes only. Unless stated the price of a rifle may not include scope, silencers or accessories.
Daystate Red Wolf Heritage Limited Edition
Daystate Red Wolf Heritage Limited Edition

Meet the Red Wolf Heritage - the 2021 Limited Edition from Daystate, released 2nd April 2021.
Melding a bronze and carbon-fibre finish with matching laminate woodwork, the stunning new Heritage serves to remind shooters that besides leading the airgun world technologically, Daystate also creates some of the most beautiful, classically-styled and highly-collectable limited editions for Daystate connoisseurs and serious airgun shooters alike. Scope not included.
Specification
Overall Length: 99.0 cm (39 ins)
Barrel Length: 43 cm (17 ins)
Cylinder Capacity: 480 cc
Weight (Unscoped): 3.5 kg (7.5lbs)
Loading: Magazine & Single Shot Tray
Cocking: Side Lever action - reversible
Magazine: 10-13 Shot
Fill Pressure: Up to 250 BAR (3,625 psi)
Power / Shots Per Charge 0.22: 475 shots 12 ft/lbs
Power / Shots Per Charge 0.177: 420 shots 12 ft/lbs
Trigger: Electronic release. Adjustable for weight and length of stage.
Safety: Manual, cross bar, lever open deactivation.
Stock: Ambidextrous Laminate
Standard features include; Bronze 0dB Silencer, custom Gun box, Charging adaptor. Certificate of authenticity.
Stock:

In Stock

Model:

Daystate Red Wolf Heritage Limited Edition

Daystate