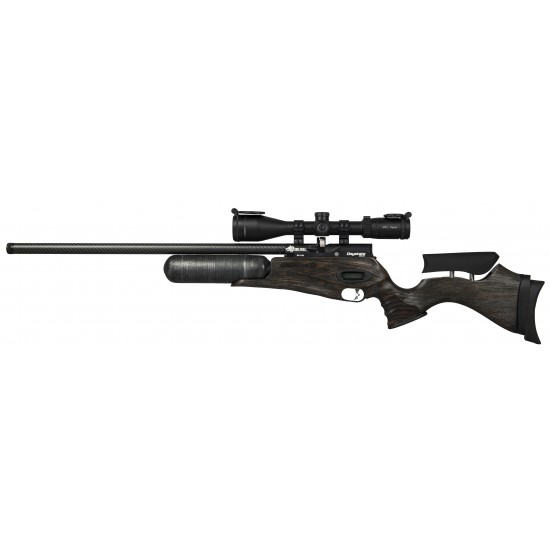 Gun Scopes & Accessories
Images are for display purposes only. Unless stated the price of a rifle may not include scope, silencers or accessories.
Daystate Red Wolf Safari FAC
Daystate Red Wolf Safari FAC ambidextrous stock sports our new textured wood finish. Its ambidextrous design caters for perfect gun fit courtesy of an adjustable butt pad and cheekpiece, whilst its two-stage electronic trigger provides more control with both sensitivity and blade position adjustments. Digitally regulated, by MCT technology, for a super consistent and high shot count, the new Red Wolf Safari pushes performance boundaries way beyond normal airgun limits. Quite simply, it has been designed to perform to the extreme.
Overall Length: 114.0 cm (45 ins)
Barrel Length: 60 cm (23 ins)
Cylinder Capacity: 480 cc
Weight (Unscoped): 3.8 kg (8.5lbs)
Available Calibres: .22 inch (5.5 mm) & .25 inch (6.35 mm) & .303 (7.62 mm)
Loading: Magazine or Single Shot Tray (Magazine Only in .303)
Cocking: Side Lever action - reversible: Magazine
5 shot (0.303), 10 Shot (0.22, 0.25)
Fill Pressure: Up to 250 BAR (3,625 psi)
Power / Shots Per Charge 0.303: 30 shots @ 80 ft/lbs
Power / Shots Per Charge 0.25: 30 shots @ 65 ft/lbs
Power / Shots Per Charge 0.22: 30 shots @65 ft/lbs
Power / Shots Per Charge 0.177: 70 shots @ 30 ft/lbs
Trigger: Electronic release. Adjustable for weight and length of stage.
Safety: Manual, cross bar, lever open deactivation.
Stock: Ambidextrous Textured Wood
Stock:

In Stock

Model:

Daystate Red Wolf Safari FAC

Daystate