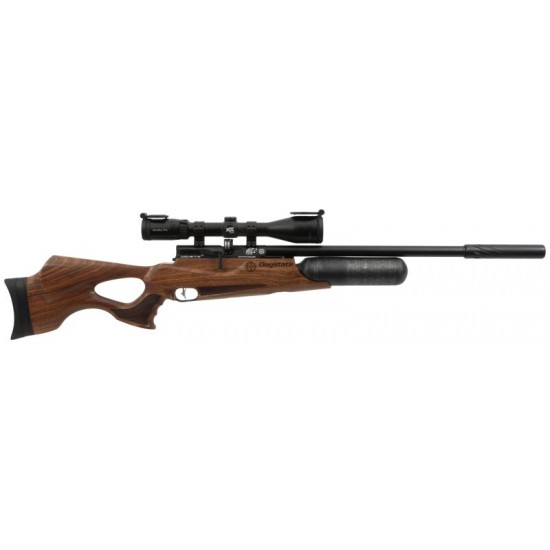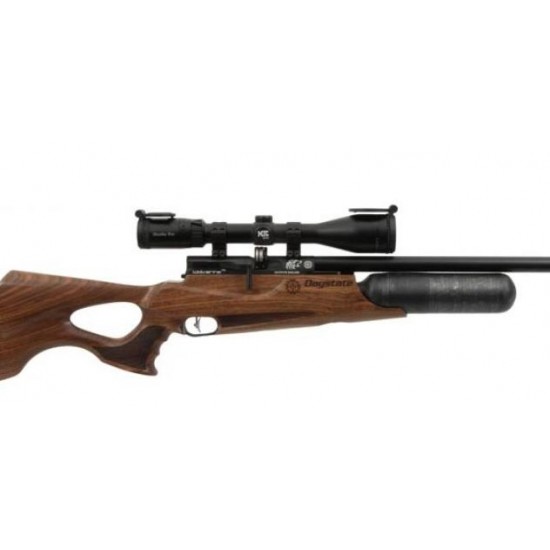 Gun Scopes & Accessories
Images are for display purposes only. Unless stated the price of a rifle may not include scope, silencers or accessories.
Daystate Wolverine R C-Type Walnut FAC
Daystate Wolverine R C-Type Walnut FAC swaps a cocking bolt for the in-vogue sidelever cocking system, increasing yet further the appeal of this very versatile PCP. Additionally, the sidelever can be switched from right-side operation to left, further building upon the ambidextrous design of the thumbhole stock. And, of course, that R suffix denotes this rifle's piece-de-resistance - its regulator.
Developed especially for Daystate in partnership with the internationally renowned Dutch regulator specialist, Huma, the measured air control that it brings to the R's action brings a host of benefits. Not only does it maximise shot-to-shot consistency as the rifle cycles through its usable air charge, but downrange accuracy is also improved. Furthermore, a greater number of shots are returned per fill-upIf the Wolverine 2 is a marvel of mechanical PCP technology, then the Wolverine R has to be the pinnacle.
Specification
Style

Sporter

Weight

3.6kg

System

PreCharge

Action Type

Side Lever 10 Shot

Power

11+ftlbs

Fill Pressure

230 Bar Max

Barrel Length

430mm

Over All Length

965mm

Stock:

In Stock

Model:

Daystate Wolverine R C-Type Walnut FAC

SKU:

Daystate Wolverine R C-Type Walnut FAC

Daystate