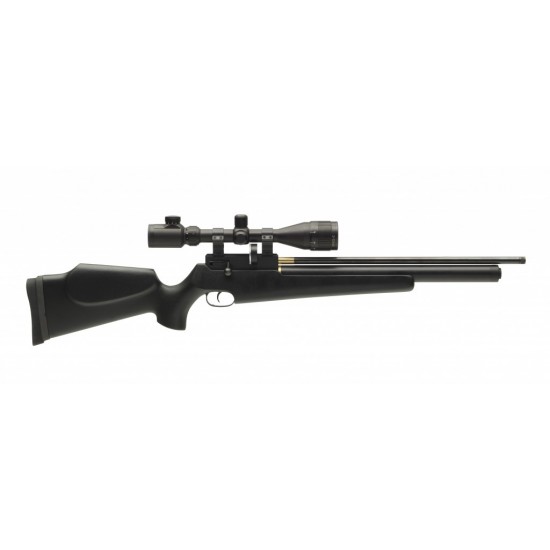 Gun Scopes & Accessories
Images are for display purposes only. Unless stated the price of a rifle may not include scope, silencers or accessories.
FX T12 Synthetic
FX T12 Synthetic PCP rifle is the multishot cousin of the fantastic Typhoon rifle. The Typhoon and the T12 are lightweight PCP rifles that can be used for a multitude of different shooting sports.
The FX rifles have a very simple operating method, which allow them to be a great deal more reliable than other rifles with more complex systems.
The Barrel is FXs own design (Smooth Twist) and is produced in Germany by Lothar Walther to the greatest of standards, ensuring the best in precision and accuracy.
The Air Cylinder is very lightweight and can hold up to 185cc of air. This means the rifle can achieve a massive 100 shots from an approx 210 BAR fill.
The stock is very well crafted and is also ambidextrous which allows it be more flexible.
(Scope and mounts not included.)

Specification:
Magazine Capacity - cal .177 = 16, cal .22 = 12, cal .25 = 11

Fill Pressure - 220 Bar

Shots per fill - 100 - 120

Maximum Power - 12 ft/lbs | 16J

Trigger - Adjustable match trigger (400 - 700 g)

Stock - Synthetic Ambidextrous Sporter

Overall Length - 930 mm

Barrel Length - 500 mm (cal .25 = 600mm)

Weight - 2.2 kg

PLEASE NOTE! FX guns usually are to order so please contact us on 01384 265151 for a due delivery date.

Availabilty
At DAI Leisure, we have a large amount of stock available. However, if this gun is out of stock, there could be between 4 - 8 weeks lead time for delivery.
Please call 01384 265 151 for availability.
Model:

FX T12 Synthetic

SKU:

FX T12 Synthetic

FX Airguns