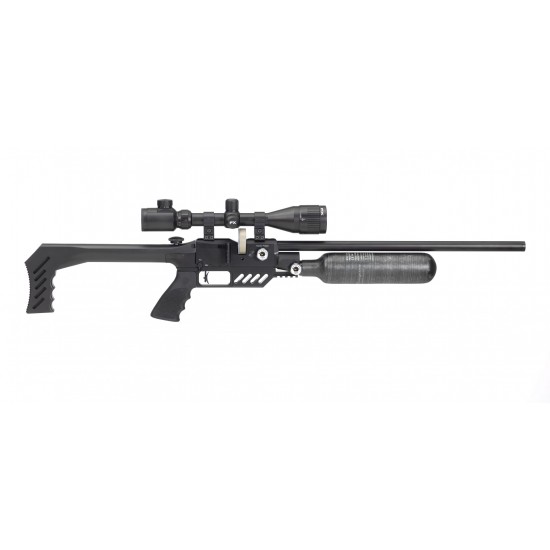 Gun Scopes & Accessories
Images are for display purposes only. Unless stated the price of a rifle may not include scope, silencers or accessories.
FX Dreamline Lite Carbon Bottle
FX Dreamline Lite Carbon Bottle

The FX Airguns Dreamline Lite Compact PCP Air Rifle The FX Dreamline Lite is a new look model unlike other FX rifles from the past. Weighing in at 5 ½ pounds, this Dreamline lives up to its name of being ultra-light weight. It is also the most customizable of all the Dreamline models. The compact version provides an ultra-compact, high performance airgun without removing any of the features of the standard Dreamline. Perfect for throwing in a backpack or having ready for that spur of the moment hunting opportunity.
FX Airguns are lovingly handcrafted by a team of over 50 Swedish craftsmen and engineers that have honed their skills to perfection; and airgun lovers worldwide have rightfully come to expect much from them. An FX Airgun won't leave the factory until it has been thoroughly tested in all aspects of its masterfully engineered capacities. FX Airguns provide superior accuracy, dependable consistency, as well as being remarkably quiet, efficient and extremely powerful. Inevitably, FX Airguns are known for outperforming their competition with ease.
Features
Optics 11 mm Dovetail Scope Mount
Muzzle ½" UNF
Trigger Adjustable Match Trigger
Energy 4.5 (.177): 16J • 11.5 ft/lbs+
4.5 (.177): 24 J • 18 ft/lbs
5.5 (.22): 16J • 11.5 ft/lbs+
5.5 (.22): 41 J • 30 ft/lbs
6.35 (.25): 65 J • 47 ft/lbs
7,62 (.30) FAC TBA
Weight 2,6 kg (Standard Version)
Charging Quick Charge System
Product Specification
Cocking system Sidelever
Magazine type Removable High Capacity
22 Shot When Cal .177
18 Shot When Cal .22
16 Shot When Cal .25
13 Shot When Cal .30
Stock Synthetic, Quick Release Rear
Stock. Grip AR15 (Hogue Pistol
Grip Included)
Calibre 4.5 (.177) 5.5 (.22) 6.35 (.25)
7.62 (.30)
Barrel FX Smooth Twist X Match Grade
Free Floating
Length 4,5 (.177): 500 mm
Length 5,5 (.22): 500 mm
Length 6,35 (.25): 600 mm
Length 7,62 (.30): 600 mm
Stock:

In Stock

Model:

FX Dreamline Lite Carbon Bottle

FX Airguns