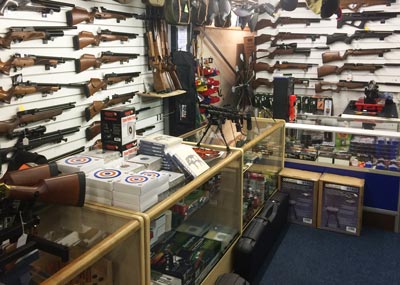 Based in the heart of the West Midlands near Wolverhampton, DAI Leisure Pursuits have been selling a wide range of Guns, Accessories and ammunition for over 30 years.

We are a Wolverhampton Gun Shop specialising in air rifles, shotguns and firearms to suit all your sporting and recreational needs.
Wolverhampton Airguns, Shotguns & Firearms
At DAI Leisure, we offer everything that a shooter could possibly need. From guns and ammunition to clothing and accessories. Our experienced, highly knowledgeable team are on hand to answer any questions you may have and recommend the best product for your sporting requirements.
Wolverhampton Gun Servicing, Repairs & Maintenance
In addition to our extensive range of guns and shooting equipment, we also provide a wide range of gun maintenance, repairs and servicing.
Bring your guns to our store near Wolverhampton, where we can repair any faults with your gun to ensure that it is always in full working order. With many years of experience behind us, you can rest assured that your equipment is in safe hands with our expert gun smith.

Our experienced gun smith has over 15 years of experience with all kinds of guns. Please see our Gun Repairs & Services page for more information.
Visit Our Gun Shop near Wolverhampton
If you are interested in shooting, or have been shooting for years, why not visit our shop and see for yourself what we have to offer. Alternatively, give us a call on 01384 265 151 to discuss your requirements. Click here for map

DAI Leisure – Gun Sales & Services near Wolverhampton
Specialists in:

Air Rifles Sales Wolverhampton
Air Gun Sales Wolverhampton
Air Pistol Sales Wolverhampton
Shotgun Sales Wolverhampton
Firearm Sales Wolverhampton