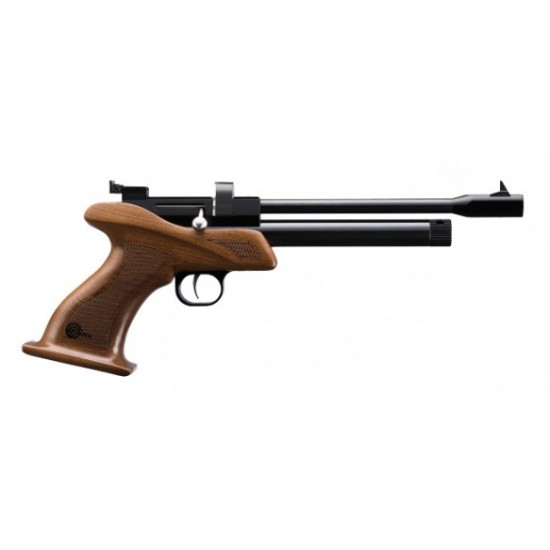 Out Of Stock
SMK CP1-M
SMK CP1-M

The SMK Victory CP1-M is a quality mulitshot CO2 air pistol with a 9 shot magazine making it ideal for pest controllers, and target shooters, with a fast reloading mechanism.
The stock is constructed out of a dark stained beech stock, with a palm shelf, to give it a great competition feel to allow you to get superb accuracy.
The pistol is powered by a 12 gram CO2 capsule which is loaded into the lower chamber below the barrel, and one provides around 40 to 50 shots each. The magazine is then indexed and the next shot reloaded by a smooth bolt action system.
A 9-11mm mounting rail is also installed to allow the fitting of additional optics such as a red dot or scope. If you wish to fit a silencer to this pistol, then don't forget to add the necessary 10mm silencer adaptor under the silencers section.
This multi shot model comes with one 9 shot .177 magazine.
Features:
Multi Shot

Action Bolt

Calibre .177 (4.5MM) AND .22 (5.5MM)

Type CO2 powered

Stock Hardwood chequered

Trigger Adjustable

Length (total) 39cm

Weight 1.94lb

Length (barrel) 21cm

Model:

SMK CP1-M

SKU:

SMK CP1-M

SMK