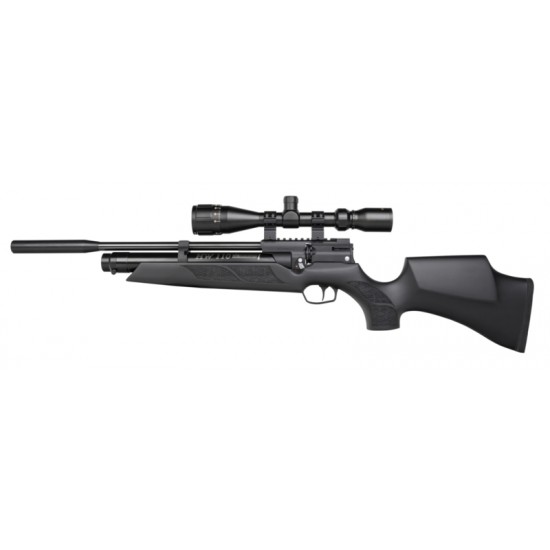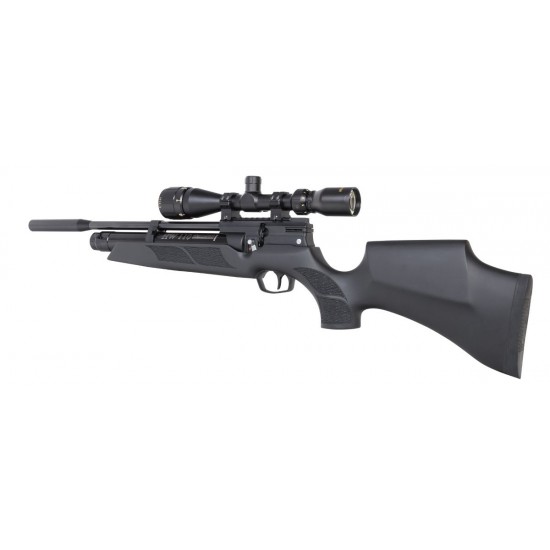 Gun Scopes & Accessories
Images are for display purposes only. Unless stated the price of a rifle may not include scope, silencers or accessories.
Weihrauch HW110 Sporter Black
Weihrauch HW110 Sporter ST is a pre-charged Air Rifle from Weihrauch with excellent accuracy, vibration free shot release it's fast and easy repeating 10-shot magazine capacity and built-in fillable air cartridge with a 200 bar capacity. It comes with an integral pressure gauge and quick-fill equipment with a regulator system.
It is available in .177" (4,5 mm)  and .22" (5,5 mm)  Calibres. The HW 110 Sporter has a well-balanced two stage adjustable match trigger with ambidextrous manual safety. It is finished in black with sporter stock and soft-touch finish and weaver-type rail for optic mount (scope against extra charge)

They are without doubt one of the quietest most accurate rifles on the market today. Packed with features to suit every shooter. The rifle comes with two 10 shot magazines, a removable quick fill air cylinder with pressure gauge, and can be fitted with the brand new Weihrauch Fully Shrouded Barrel silencer. Added to this is the stunningly simple and effortless biathalon type loading system.

This rifle can easily be reloaded without it having to be un-shouldered. Surely a hunters delight being able to take that second shot quickly and accurately should it be required. 
Features
Ambidextrous Soft Touch Sporter Stock.

10 Shot Rotary Magazine.

Biathalon Style Loading Lever.

Removable Air Cylinder.

External Pressure gauge

Overall Length 1060mm.

Barrel Length 410mm.

Large shot capacity (140 .22 & 110 .177 @ 11.5ftlbs).

Weight Unscoped 3.6kg.


Weihrauch
Make Sure It's Hull Cartridge

NOTE: Hull Cartridge are the official UK distributor for Weihrauch guns. All our Weihrauch guns are supplied and stamped by Hull Cartridge.
WARNING: Any grey imports will have no official UK Warranty.