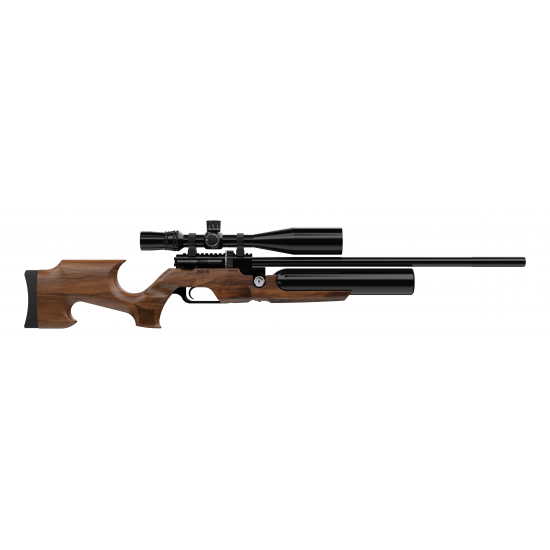 New
Gun Scopes & Accessories
Images are for display purposes only. Unless stated the price of a rifle may not include scope, silencers or accessories.
Aselkon MX6 Jet Black
This Aselkon MX6 Jet Black air rifle uses compressed air to fire pellets downrange with incredible accuracy and consistency. With its Turkish hardwood stock, adjustable trigger, Picatinny rail, manometer, index magazine, and a comfort recoil ergonomic grip, it is both beautiful and functional. Its smooth sidelever action is perfect for plinking, hunting, competition shooting, target practice, and much more. This versatile and solidly constructed high-quality air rifle is perfect for any gun enthusiast.
The Specs
Gauge: .177 & .22

Muzzle Output Speed: 11.3Ft/Lbs

Magazine Capacity: 14/12

Tube Volume: 550 cc

Filling Pressure: 250 bar

Number of Shots: 110/100

Forearm Engraving: Turkish Walnut
Total Length: 1100 mm (43.30)

Barrel Length: 550mm (21.6)

Weight: 3.7kg
The product is pre-order, lead times can vary, please call for availability. You can pay a £20 deposit and we will order these immediately and pay the balance on arrival. Or you can pay in full.

Aselkon