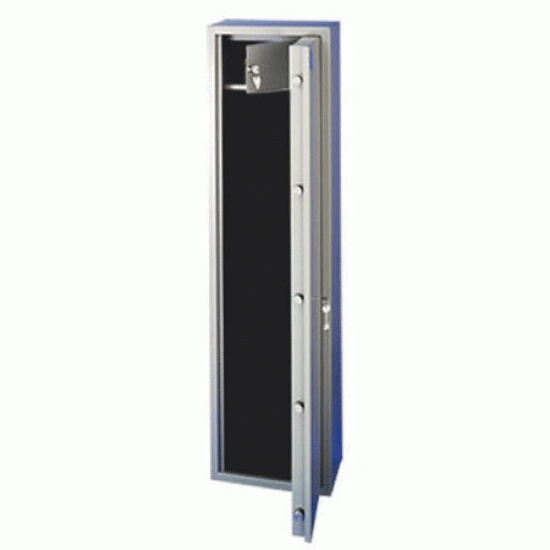 Brattonsound 6/7 Internal Locking Top Gun Cabinet
Brattonsound has manufactured over 250,000 Gun safes for clients including UK & Overseas Police Authorities and the Ministry of Defence. Their expertise and unrivalled experience enable you to store your guns with confidence. Brattonsounds gun safes are built and independently tested to British standard BS 7558/92 which is the only way to guarantee police acceptance. All safes are manufactured in the UK by an ISO 9001 registered firm.
Specification
Dimensions: 1515 x 407 x 271 (HxWxD mm) 
Weight: 44 (kg) 
Notes: Not suitable for rifles with scopes 
Features
Durable 2mm thick fully welded steel construction (Including fully welded Top). Using the latest CNC high definition plasma cutting and press brake technology to achieve consistent accuracy and high quality.
Full-length anti-jemmy bar. For increased protection to lock the side of the gun safe.
Full-length anti-flange and door. To give strength on the hinge side of the gun safe.
Recessed Door. With multiple folds on the door and door housing to maximise strength and resistance to attack.
High-density foam divider and floor mat.
Powder coated. Outstandingly durable light grey textured finish. Iron phosphate pre-treated to BS 3189, for increased powder adhesion, and then powder coated. Certain parts are then tested to BS 3900 for resistance to scratching, flaking, humidity and salt spray
Double skinned vault type door.
5 Point locking with electroplated solid steel locking pins.
7 Lever double throw lock with double bitted key.
Radial tumbler lock on internal compartment. On Models with locking top.
Additional Accessories
Shelf Assembly (Factory Fitted for 7 gun models only). 3 Partial width shelves are fitted giving you 4 compartments of 320mm in height.< This option reduced the capacity of shotguns/rifles to a maximum of 4.
Fixing Kit. Including 4 sleeve anchors, 2 Coachscrews and 6 washers.
Left-hand hinges.
Additional loose Shelves.

Brattonsound