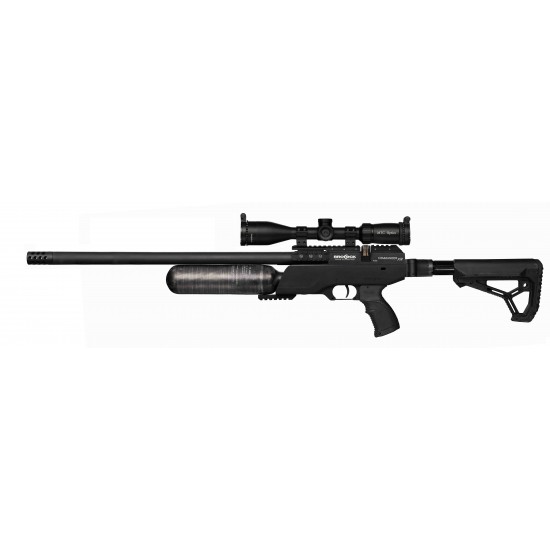 Gun Scopes & Accessories
Images are for display purposes only. Unless stated the price of a rifle may not include scope, silencers or accessories.
Brocock Commander XR Black 480cc Hilite
Brocock Commander XR Black 480cc Hilite
To maximise handling and target acquisition, the Brocock Commander features an ergonomic drop-down pistol grip and retractable stock that allows for speedy length-of-pull adjustment, while on 'export' models, the butt can also be folded via a quick-release mechanism to make it even more compact, further facilitating carriage and storage.
In keeping with its tactical looks, the Brocock Commander sports a number of practical features, from its Picatinny scope and accessory rails (with a tri-plate accessory rail option), through its in-guard manual safety catch and on-the-fly power adjuster, to its fast-throw side-bolt – the latter allowing quick cycling of the 10-shot, removable rotary magazine.

A single-shot tray is supplied for more deliberate loading, however. Further hi-tech features come in the shape of a full-length barrel shroud cum reflex silencer and ported muzzle brake – all designed to maximise all the accuracy on offer from the Brocock Commander's Lothar Walther barrel, regulated action and totally recoil-free firing cycle.
*Please note the picture shown is the best picture we can get of the new gun. We will adjust the pictures once we get the gun in stock.  

Model:

Brocock Commander XR Black 480cc Hilite

SKU:

Brocock Commander XR Black 480cc Hilite

Brocock