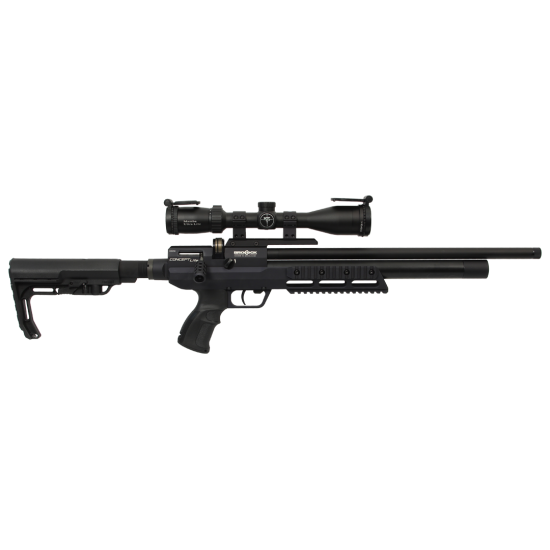 Gun Scopes & Accessories
Images are for display purposes only. Unless stated the price of a rifle may not include scope, silencers or accessories.
Brocock Concept Lite XR
Brocock Concept Lite XR

The new Concept Lite from Brocock LTD is a tactical style air rifle that will impress the most critical and discerning shooter. The heartbeat of the Concept Lite is an all new floating hammer system mated with the renowned HUMA regulator for maximum shots per fill and extremely consistent velocity. The German barrel is slightly choked and delivers impressive accuracy with many brands and weights of pellets. Slugs will also chamber with ease for hunting applications at reasonable ranges. The build quality of the Brocock Concept Lite is second to none as evident in the main chassis that runs the entire length of the action. Milled from a single billet of aircraft grade alloy the impressive component is the foundation for the front Tri-Rail Picatinny mounting package. The robust design offers a bottom rail for extended bipod and hand grip mounting with two removable side rails for other tactical shooting aids. When removed the forend width of the rifle is very slim but the air cylinder remains protected from rough use. The butt stock is a AR15 compatible adjustable unit that will fit small to large shooters. The grip is an AK47 unit that can also be changed to the style desired by the owner. Cocking and firing the Concept Lite is quick and easy facilitated by the large tactical bolt handle. A multi-step power adjuster adds flexibility for back yard plinking or long range pest control. The trigger is a very nice two stage adjustable unit that gives precise control for the best accuracy. The Concept Lite sports added features such as a pressure gauge to monitor air pressure, a shrouded barrel for reduced report, extended rails for scope mounting options. A 10-shot magazine with included single shot tray, and a threaded muzzle for additional sound moderation as standard. The Concept Lite packs an impressive shot count in all calibers and is backed by a three year warranty. The Brocock Concept Lite is the most solid platform available for building a true tactical, firearm-grade air rifle system.
Specification
Caliber: .25, .177, .22
Overall Length: 32"-35.75"
Barrel Length: 17"
Weight: 6.5 lbs
Powerplant: PCP
Energy: up to 40 ft/lbs
Cylinder Volume: 180cc
Shots Per Fill: up to 40
Capacity: 10-shot
Scope Rail: 11mm
Velocity: 820 fps w/ 25gr
Model:

Brocock Concept Lite XR

SKU:

Brocock Concept Lite XR

Brocock