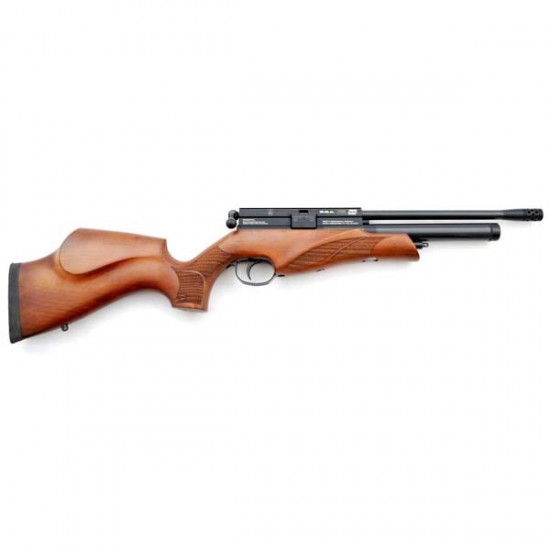 Out Of Stock
Gun Scopes & Accessories
Images are for display purposes only. Unless stated the price of a rifle may not include scope, silencers or accessories.
BSA Ultra Single Shot Beech
BSA Ultra Single Shot Beech is the strongest and most reliable version ever in its history. The key fundamentals that the Ultra builds on are a superbly compact, full-power, pre-charged pneumatic action, complete with a match-accurate barrel and a fully chequered stock, which all add up to the hottest ultra-carbine on the market.
The BSA Ultra provides top spec' performance and unique handling qualities in a stylish, affordable package. Perfectly balanced and designed for fast target acquisition, the Ultra is purpose built to take your sporting shooting to an exciting new level. It's a lightweight stalker, a super-compact ratter, the ideal hide-hunting rifle and much, much more. It's the BSA Ultra – a genuine mini-supergun!

Specification
Air Tube Volume - 67cc approx

Fill Pressure - 232 BAR

Shots per fill - 50

Maximum Power - 12 ft/lbs | 16J

Overall Length - 82cm/32in

Barrel Length - 30.5cm/12in

Weight - 2.6kg/5.7lbs

Stock:

Out Of Stock

Model:

BSA Ultra Single Shot Beech

SKU:

BSA Ultra Single Shot Beech

BSA