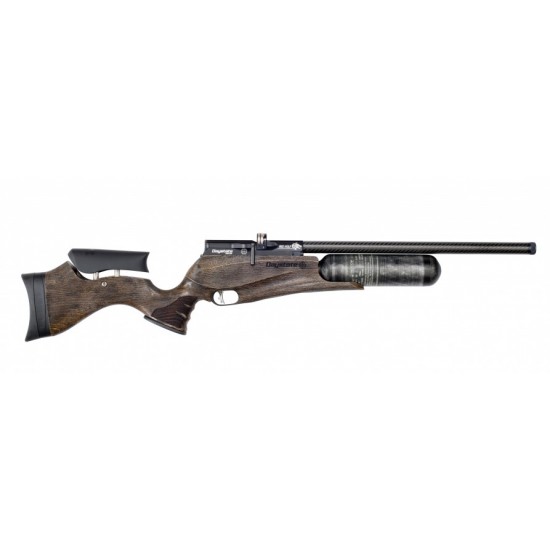 New
Gun Scopes & Accessories
Images are for display purposes only. Unless stated the price of a rifle may not include scope, silencers or accessories.
Daystate Red Wolf Safari Hi-Lite
Daystate Red Wolf Safari Hi Lite
Digitally regulated for a super consistent high shot-count, and sporting a trigger that incorporates adjustability of both release and finger placement, the Red Wolf delivers match-like accuracy at the very extremes of airgun ranges. Its masterfully sculpted stock comes in a variety of colours and materials which include Walnut, red or blue laminate and a highly practical 'Safari' finish. However it's dressed though, its ambidextrous design caters for a perfect gun fit courtesy of a butt pad and raised cheekpiece, both fully adjustable.
Aiding the Red Wolf's user-friendly handling is a lightweight carbon-fibre bottle, above which sits a fully-shrouded carbon barrel that helps mute the muzzle report in the field. And, of course, the Red Wolf's sidelever design marries effortless cocking with speedy loading courtesy of Daystate's latest generation of higher capacity self-indexing magazines.
In looks, handling and performance, the Red Wolf is pure airgun artistry.
The specs:
Overall Length - 99.0cm(39ins)

Barrel Length - 43cm(17ins)

Cylinder - 480cc

Weight - 3.5kg(7.5lbs)

Calibre - .177/.22/.25

Fill Pressure - Up to 250 BAR (3,625psi)

Shots per charge -

420/475/45

Trigger - Electronic release. Adjustable for weight and length of stage.

Magazine - 10rd and single tray included

Safety - Manual, cross bar, lever open deactivation
Stock:

In Stock

Model:

Daystate Red wolf Safari Hi-Lite

Daystate