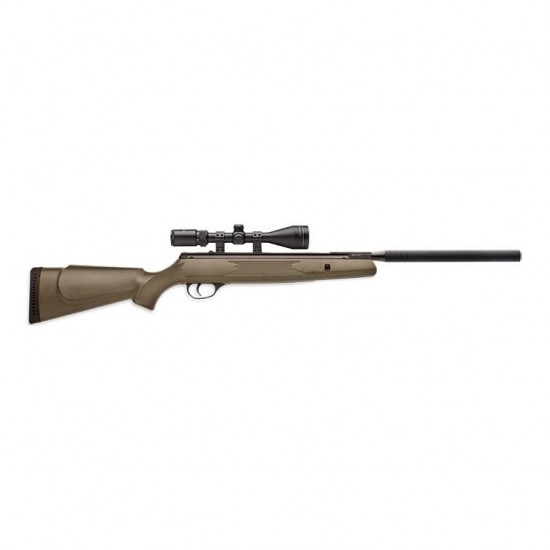 Out of Stock
Gun Scopes & Accessories
Images are for display purposes only. Unless stated the price of a rifle may not include scope, silencers or accessories.
Webley VMX Quantum Green Polymer
Webley VMX Quantum Green Polymer

The Webley VMX quantum is a break barrel, spring powered air rifle from Webley. Everything from it's ergonomic design to it's aesthetic features make it a great all round air rifle.
The VMX's ergonomic design ensures your get the most comfortable, accurate shot out of your air rifle. The Ambidextrous polymer stock gives the you option to shoot with your left or right hand but also feature a cheek rest allowing you to line up your shot.
This spring powered webley air rifle includes many beneficial features. The chequering on the foregrip provides an anti-slip surface reducing the chance of you dropping your gun and increasing accuracy. The ventilated rubber butt pad on the stock absorbs the recoil of the gun and reduces strain on your shoulder.
Fitted with an over-sleeved silencer the Webley VMX is ideal for hunting. This reduces the sound of each shot and prevent you notifying other animals of your presents. To further this high quality air rifle the Webley VMX Quantum has a two staged trigger providing a crisp, sharp shot time after time.
Scope and Mounts not included.
Specification
Calibre - .22
Approx power - 11.5 ft/lbs
Barrel Thread - N/a
Stock - Ambidextrous Polymer
Overall Length - 106cm
Barrel Length - 26cm
Weight - 3.2lbs
Sights - N/a
Safety - Automatic re-settable
Model:

Webley VMX Quantum Green Polymer

SKU:

Webley VMX Quantum Green Polymer

Webley