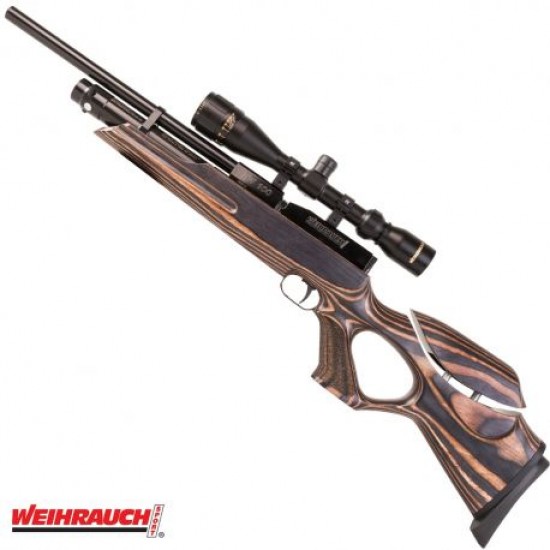 Gun Scopes & Accessories
Images are for display purposes only. Unless stated the price of a rifle may not include scope, silencers or accessories.
Weihrauch HW100 T Laminate
Weihrauch HW100 T Laminate is one of the finest PCP rifles currently available, this is due to the high build quality, superb accuracy from Weihrauchs own barrel, and the super smooth side lever action.
The new Laminate stock features both an adjustable rear butt pad, as well as an adjustable cheek piece so that you can get as comfortable as possible for your shooting position.
The two colours of the laminate go very well together to achieve an outstanding appearance, and one that certainly does stand out from the rest.

The Side lever action indexes the 14 shot magazine with a simple flick of the wrist and also prevents the rifle being double loaded through a very well engineered action.
The shot is released via a metal trigger, connected to Weihrauchs Match trigger system, with multi adjustable first and second stage which is easy to adjust, and predictable to shoot.

The rifle comes complete with Weihrauchs ½inch UNF Silencer which makes this rifle one of the quietest on the market, and with the regulated action around 75 shots are achievable from a 200 bar fill.

Action Type - Pre Charged Pneumatic

Trigger Type - Match

Barrel Length - 310mm

Weight - 3.3kg

Overall Length - 958mm

Maximum Power - 12 ft/lbs

Model:

Weihrauch HW100 T Laminate

SKU:

Weihrauch HW100 T Laminate

Weihrauch
Make Sure It's Hull Cartridge

NOTE: Hull Cartridge are the official UK distributor for Weihrauch guns. All our Weihrauch guns are supplied and stamped by Hull Cartridge.
WARNING: Any grey imports will have no official UK Warranty.