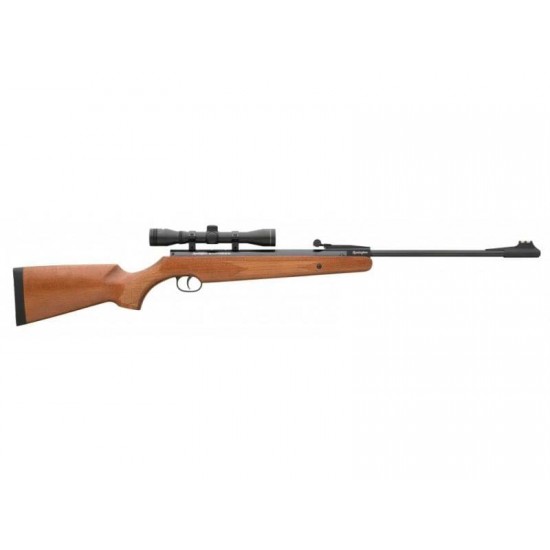 Gun Scopes & Accessories
Images are for display purposes only. Unless stated the price of a rifle may not include scope, silencers or accessories.
Remington Express Rifle Kit
Remington has been making quality firearms for nearly 200 years, and those years of dedication and innovation can still be seen today, in the range of Express Air Rifles.
This break barrel design air rifle comes standard with a number of features that you would expect to find on much higher priced air guns. The full-length, hardwood stock features cut checkering, a fitted rubber recoil pad for a non-slip surface and 15" length of pull. The trigger is a two stage design so you can finely tune your shooting.
The iron sights are fiber optic and with its full sized stock and a maximum muzzle velocity of 600 FPS, the Remington Express Air Rifle is equally at home on the plinking range or eliminating those unwanted visitors from your garden.
This rifle is especially good at pest control as it is one of the highest powered rifles we sell in .22
This high quality rifle kit also includes a 4x32 scope so you can always hit your target.
Action Break barrel
Calibre .177 (4.5mm)
Type Spring and piston powered
Stock Hardwood chequered
Trigger Two stage (adjustable)
Barrel type Steel precision rifled
Length (total) 47.5"
Weight 8.8lb
Model:

Remington Express Rifle Kit

SKU:

Remington Express Rifle Kit

Remington
Tags:
remington express rifle kit remington
,
express
,
rifle
,
kit
,
spring
,
rifles
,
remington
,
remington air rifle
,
remington rifle
,
air rifle
,
spring rifle
,
remington spring rifle
,
remington gun
,
remington air gun
,
air gun