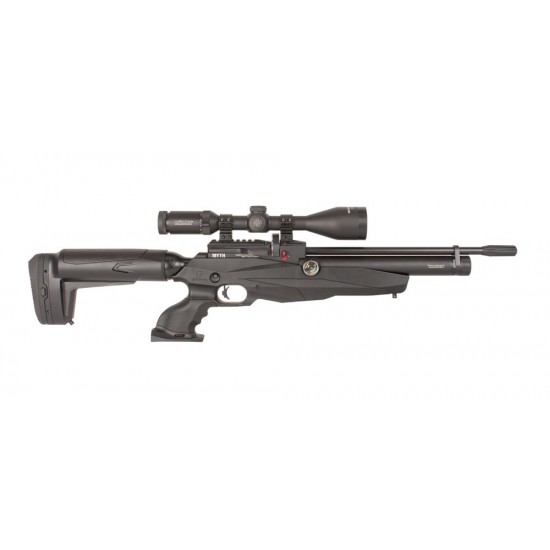 Gun Scopes & Accessories
Images are for display purposes only. Unless stated the price of a rifle may not include scope, silencers or accessories.
Reximex Myth
The Reximex Myth is a new compact air rifle that features an air bottle to the rear and an air cylinder to the front. Due to this, the rifle is capable of approximately 150 shots per fill at 200 bar. Featuring a Soft touch synthetic stock with a pistol grip. The Myth has a cocking lever which is located on the right side of the action. You will find the manual safety to the rear of the stock which can be easily switched between on and off. The rifle also has a fully adjustable 2 stage trigger

Shot count: .177=150 .22=210 at 200 bar. 380cc total reservoir capacity.
The Specs
Calibre: .177 & .22
Overall Length: 840mm
Barrel Length: 380mm
Power: 11.3 FT/Lbs
Weight: 2.8kg
The product is pre-order, lead times can vary, please call for availability. You can pay a £20 deposit and we will order these immediately and pay the balance on arrival. Or you can pay in full.

Reximex