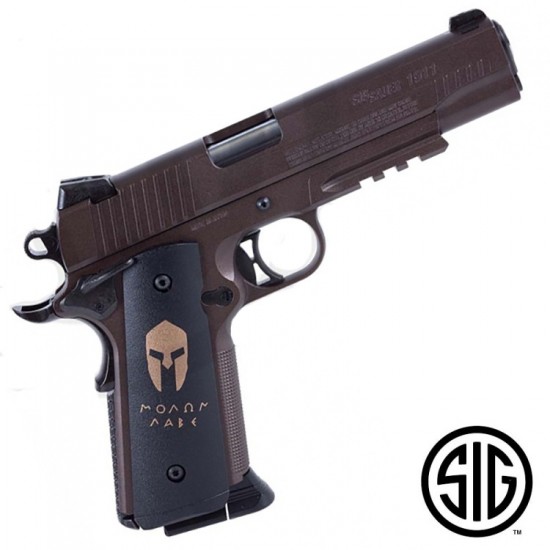 Out Of Stock
Sig Sauer 1911 Spartan
Sig Sauer 1911 Spartan Inspired by ancient Spartan tales, this model of the 1911 from Sig Sauer features a Spartan helmet on the grip, along with Molon Labe engraved onto the slide. Translated from Ancient Greek, Molon Labe means 'Come and take them' - a famous cry of defiance from King Leonidas of Sparta at the Battle of Thermopylae. This is a fun and easy-to-use BB-firing pistol, powered by a 12g CO2 capsule, which is housed in the grip. Each capsule provides around 50 shots and is easily loaded through a unique cam loading system without the need for tools. The magazine is a 16-round, drop-out, stick-type magazine, which is quick and easy to reload and allows trouble-free shooting when in operation. The slide blows back on each shot to reload the next shot, providing a realistic feel.
Specification
Length : 220 mm
Barrel length : 127 mm
Weight : 934 g
Mag. Capacity : 16
Approx Power : 2.3 ft/lbs
Ammo Type : 4.5mm BB
This product is pre-order, lead times can vary, please call for availability. You can pay a £20 deposit and pay the remaining balance on arrival. Alternatively, you can pay for the item in full and we will call you as soon as they're in stock. For anymore information, please call 01384 265151, or email support@daileisure.com.
Model:

Sig Sauer 1911 Spartan

Sig Sauer