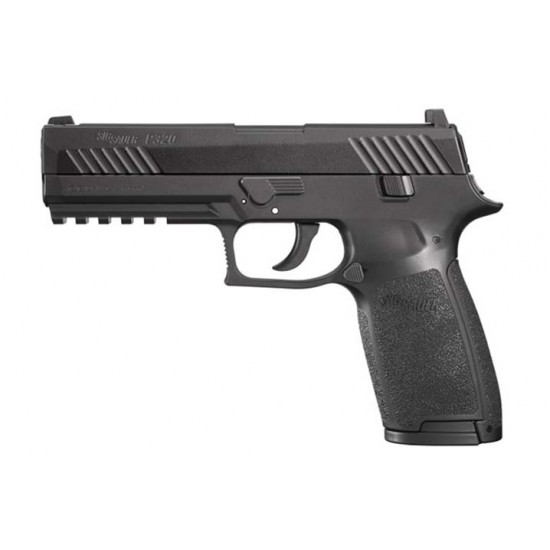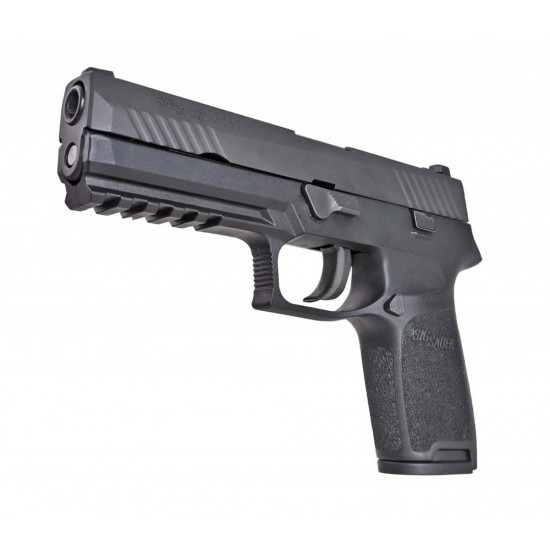 Sig Sauer P320 Black CO2 Pellet
The Sig Sauer P320 Black CO2 Pellet is a new addition to its Advanced Sport Pellet (ASP) line of airguns.
This semi-automatic .177 cal. ASP pistol is the first air pistol in the world to feature a 30-round belt magazine and is designed to look and feel like the highly acclaimed SIG Sauer P320 center-fire pistol.
Weight and trigger pull are virtually identical, offering recreational shooters, professionals and competitive shooters another training tool with which to hone their shooting skills at greatly reduced costs.
The double-action-only P320 ASP air pistol features a metal slide with realistic blowback action and polymer frame in addition to a smooth slide safety.
This pistol has a front blade sight, fixed rear sight and an accessory rail which allows easy mounting of a laser or tactical flashlight.
The 12-gr. CO2 cartridge is inserted and removed through a compartment in the side of the grip.
Velocity is up to 450 fps, however, velocity results may vary depending on pellet weight, temperature and altitude.
The P320 ASP air pistol also shoots steel BBs.
Pre-Orders being taken now, available end of April!
Model:

Sig Sauer P320 Black CO2 Pellet

SKU:

Sig Sauer P320 Black CO2 Pellet

Sig Sauer