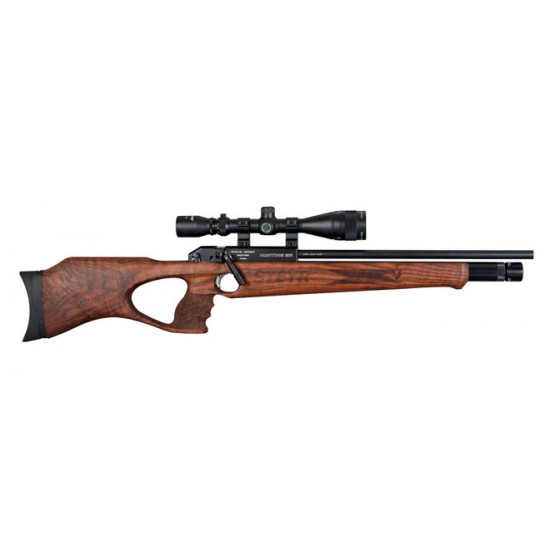 Gun Scopes & Accessories
Images are for display purposes only. Unless stated the price of a rifle may not include scope, silencers or accessories.
Steyr Hunting 5 Scout Auto
Steyr Hunting 5 Auto
The new HUNTING 5 embodies, like all STEYR air rifles, the benefits that are brought about through decades-long experience and manufacturing of highest quality compressed air weapons, using high end materials. The magazine allows five quick shots in aiming position and gives maximum safety, as the pellet is fired directly from the magazine. With a removed magazine, no diabolo remains in the breech. The HUNTING 5 function is the same system as the LGB1 Biathlon Rifle, which even in the midst of winter, gives robustness and extreme reliability.
Specification
Prellschlagfreies System

Bounce free system

Simple loading, pellet direct from the magazine

Maximum safety. No projectile/diabolo remains in the weapon after the magazine is removed

Additional external safety

650 mm barrel for maximum performance and longer compressed air cylinder for higher capacity

Ergonomic thumb-hole stock made from nut wood

Several options: Depending upon calibre (.177/.22)

total length: 1.020 mm

total height: 160 mm

calibre / length of barrel:

- 4,5 mm (.177) / 650 mm

- 5,5 mm (.22) / 650 mm

total weight: ca. 3.300 g

trigger: mechanical

trigger pull: 250 - 600 g
PLEASE NOTE THESE GUNS ARE TO ORDER WITH A 8-10 WEEK WAIT!!
Availabilty
At DAI Leisure, we have a large amount of stock available. However, if this gun is out of stock, there could be between 4 - 8 weeks lead time for delivery.
Please call 01384 265 151 for availability.
Model:

Steyr Hunting 5 Scout Auto

Steyr