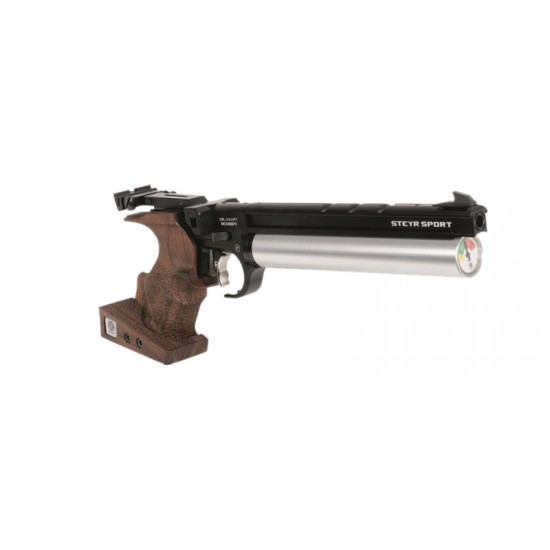 Steyr LP50
Steyr LP50
The 5 shot STEYR LP 5 has had a long and outstanding career. Now STEYR have developed the LP 5 into the LP 50. This pistol became even smoother and ensures the stability of an ideal competition weapon in any air pistol discipline. 
Being a great 5 shot weapon for the training of any dynamic pistol disciplines, the LP 50 is even more useful!
Specification
action type: rapid fire semi-auto pellet pistol
propellant: compressed air
calibre: 4,5 mm (.177)
length / height / width: 398 / 148 / 50 mm
weight: 1.050 g
length of sight: 307 - 350 mm
front sight: moveable blade (4,5 mm)
rear sight: rear sight 2 - 6 mm variable, depth 1 - 3 mm
trigger pull: 450 - 1.050 g
trigger settings: first stage length, trigger stop, trigger pull
trigger blade adjustable: in all directions
PLEASE NOTE THESE GUNS ARE TO ORDER WITH A 8-10 WEEK WAIT!!
Availabilty
At DAI Leisure, we have a large amount of stock available. However, if this gun is out of stock, there could be between 4 - 8 weeks lead time for delivery.
Please call 01384 265 151 for availability.
Model:

Steyr LP50

SKU:

Steyr LP50

Steyr