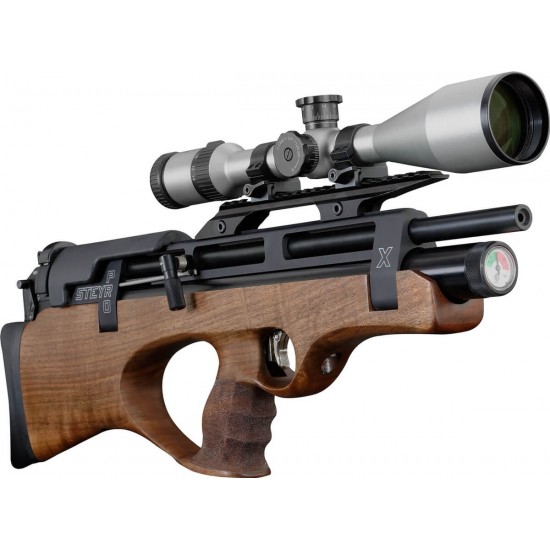 Gun Scopes & Accessories
Images are for display purposes only. Unless stated the price of a rifle may not include scope, silencers or accessories.
Steyr Pro X Scout
Steyr Pro X Scout
10 quick shots due to automatic repeating system
Bounce free system
Easy handling due to the well-balanced design
Maximum safety: The pellet is shot directly out of the magazine. No pellet remains in the barrel when magazine is removed
Available in energy of 7,5/16/24 joule (calibre.177) and 16/24/40 joule (calibre .22)
Delivered with long compressed air cylinder and one 10-shot drum magazine in a compact plastic rifle case.
Specifications
Calibre | energy: 4,5mm (.177) | 7,5 / 16 / 24 Joule - 5,5mm (.22) | 16 / 24 / 40 Joule
Total length: 760mm
Total height: 200mm
Length of barrel: 650mm
Total weight: ca. 3500g
Trigger: mechanical
Trigger pull: 550 - 700g



PLEASE NOTE THESE GUNS ARE TO ORDER WITH A 8-10 WEEK WAIT!!
Availabilty
At DAI Leisure, we have a large amount of stock available. However, if this gun is out of stock, there could be between 4 - 8 weeks lead time for delivery.
Please call 01384 265 151 for availability.
Model:

Steyr Pro X Scout

SKU:

Steyr Pro X Scout

Steyr