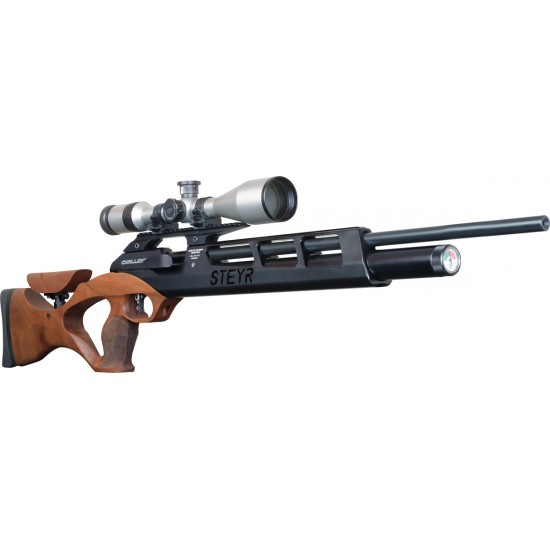 Gun Scopes & Accessories
Images are for display purposes only. Unless stated the price of a rifle may not include scope, silencers or accessories.
Steyr Challenge Hunting
Steyr Challenge Hunting
Bounce free system
Totally nickel-plated barrel and anodized aluminium parts against corrosion
In hunting-black prevents reflexion
Easily manageable danger zone in comparison to small caliber rifles
Perfect training weapon for hunting shooting
Infinitely adjustable ball-bearing STEYR precision trigger
Like all challenge rifles are available as right-hand or left-hand cocking
Safety first: cannot be fired unless bolt is fully closed
Specification
calibre: 4,5mm (.177) | 5,0mm (.20) | 5,5mm (.22)
total length: 1.030mm
total height: 170mm
length of barrel: 550mm
total weight: ca. 3490g
trigger: mechanical
trigger pull: 50-250g
Energy: 7,5/16/24 Joule | 16/24/35 Joule | 16/24/40 Joule
PLEASE NOTE THESE GUNS ARE TO ORDER WITH A 8-10 WEEK WAIT!!
Availabilty
At DAI Leisure, we have a large amount of stock available. However, if this gun is out of stock, there could be between 4 - 8 weeks lead time for delivery.
Please call 01384 265 151 for availability.
Model:

Steyr Challenge Hunting

SKU:

Steyr Challenge Hunting

Steyr