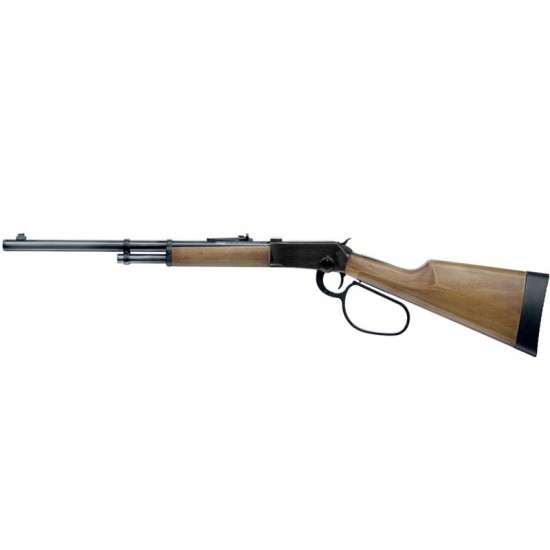 Out of Stock
Gun Scopes & Accessories
Images are for display purposes only. Unless stated the price of a rifle may not include scope, silencers or accessories.
Walther Lever Action Duke Black Dust
Walther Duke Lever Action is a very high quality replica of the original lever action rifles that are well known around the world thanks to their high use in films and TV.
This model has the fully working lever action which cocks and indexes the magazine on each stroke which with practice allows you to fire a whole magazine in a matter of seconds! The air rifle uses the standard Umarex 8 Shot Magazines for easy reloading and reliable shooting.

The stock is made from real wood and is finished in a medium dark distressed finished which makes it look as though it was really on the prairies at some point. The metal work is finished to a deep blue on the barrel with the breech block black anodised on this Black Dust model for a striking appearance.

The open sights that come as standard mean that you can be on target and the rifled steel barrel provides superb accuracy and consistency at ranges up to around 15 meters.
Specification
Magazine Capacity - 8 rounds

Shots per capsule - approx 200

Trigger - Adjustable

Length - 996 mm

Weight - 2800 g

Model:

Walther Lever Action Duke Black Dust

SKU:

Walther Lever Action Duke Black Dust

Walther