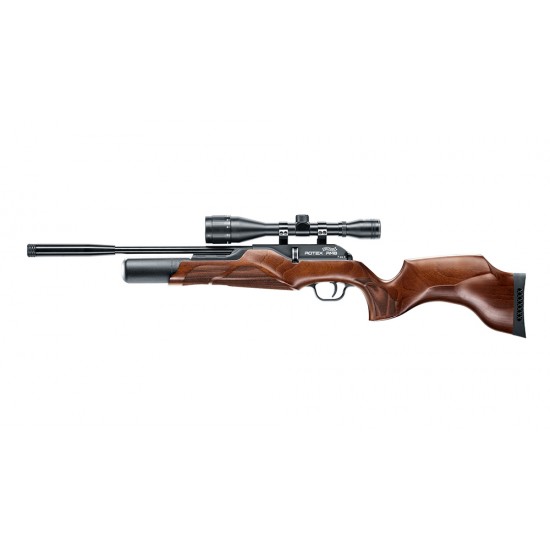 Gun Scopes & Accessories
Images are for display purposes only. Unless stated the price of a rifle may not include scope, silencers or accessories.
Walther RM8 Wooden Stock
Walther RM8 Wooden Stock is made, designed and built in Germany, fresh from Umarex, the new Walther you have always wanted... a bolt action PCP innovation rifle with Minelli wood stock.
This brand new PCP rifle is super accurate, and super effective. With a top quality Minelli wood stock with beautiful checkering, a Walther Lothar Barrel with a ½inch UNF thread, 200cc Bottle, and an 8 shot magazine, what more could you want!

Long Lasting Power

With the 200cc bottle, a very impressive 180 full power shots is achieved, allowing you more shots between fills. This is particularly helpful on a long days shooting.

The Walther Lothar barrel is among the best in the world, with unparalleled accuracy, and precision.

Everything on this rifle has been thought through by Walther's world class engineers and designers, not leaving anything to chance. If you're looking for an affordable, multishot PCP rifle, look no further then the Walther Rotex RM8.
Specification
Magazine Capacity - 8 shots

Fill Pressure - 232

Shots per fill - 180

Overall Length - 1040mm (41 inches)

Barrel Length - 500mm (19.7 inch)

Maximum Power - 12 ft/lbs | 16J

Weight - 3.6kg (7.95lbs)

Model:

Walther RM8 Wooden Stock

SKU:

Walther RM8 Wooden Stock

Walther