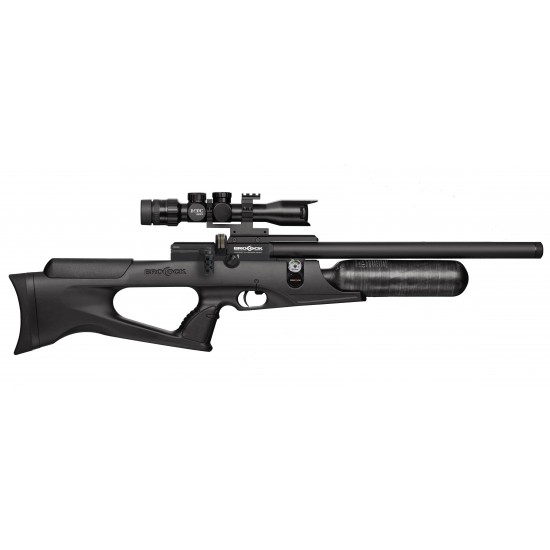 Gun Scopes & Accessories
Images are for display purposes only. Unless stated the price of a rifle may not include scope, silencers or accessories.
Brocock XR Sniper 480cc Hilite Black Synthetic
Brocock XR Sniper 480cc Hilite Black Synthetic
Features
• Multiple power settings via side power adjuster
• Removable self-indexing 10 shot rotary magazine with single shot tray supplied
• Revised hammer and valve assembly
• Two-stage trigger
• Resettable safety catch
• Ambidextrous polymer or grey laminated stock
• Adjustable cheek piece and 2D adjustable butt pad (XR)
• Collapsible stock (Commander XR/Concept XR)
• Underside Picatinny rail
• Full length, built-in fully baffled moderator with adaptor for second stage silencer
• Mini shroud available (removes internal silencer)
Specification
• Available Calibres: .177/4.5mm, .22/5.5mm and .25/6.35mm (FAC only)
• Power: Model/territory dependent – from 12ft/lb to 55t/lb (16-75J)
• Overall Length: From 820mm (32in) – model dependent
• Barrel length options: 432mm (17in) or Magnum 600mm (23in)
• Typical weights: 400cc - 3.1kg (6.8lbs); 500cc – 3kg (7.3lbs); 480cc carbon-fibre HiLite – 2.9kg (6.4 lbs)
• Dovetail width: 11.5mm with optional 20mm Picatinny (standard on Commander XR)
• Valve Type: XR – non-regulated; Sniper XR, Commander XR, Concept XR – Huma-Air Regulated
• Trigger: Two-stage, adjustable.
Please note that the bottle on the gun shown is the regular bottle whilst the gun for sale is the 480cc Hilite bottle
Model:

Brocock XR Sniper 480cc Hilite Black Synthetic

SKU:

Brocock XR Sniper 480cc Hilite Black Synthetic

Brocock