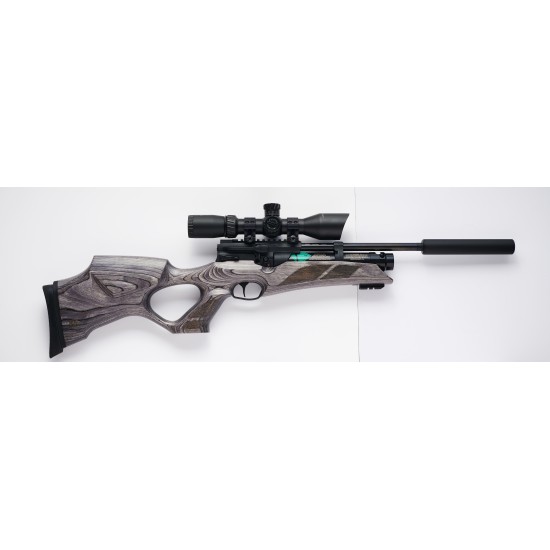 Gun Scopes & Accessories
Images are for display purposes only. Unless stated the price of a rifle may not include scope, silencers or accessories.
Weihrauch HW110 KT Laminate
Weihrauch HW110 KT Laminate

The Weihrauch HW110 KT with a grey laminate thumbhole stock is the latest new multishot pcp air rifle.
The Weihrauch HW110 will be available in a sporter style with a soft touch black stock. Features will include a 10 shot magazine, weihrauch silencer, quick fill cylinder, match tigger and a fast fire action.
These new rifles will take the UK Airgun market by storm. The HW110 will also have a lightweight action as shown to the left making the rifle lighter than the traditional HW100.
Its side lever action system has a few new tweaks, a new 10 shot magazine, side safety lever, and of course one of their superb rifled barrels along with a Weihrauch Silencer to make the rifle whisper quiet.
The stock on this rifle is a beautifully crafted grey laminate thumbhole making a truly stunning airgun. This point is further reinforced with the weaver mounting rail on top of the breach which holds your optics very firmly which is ideal when out in the field hunting and there is no time for constant re zeroing.
Specification
Style

Thumbhole Laminate
Weight

3.1kg
Type

PreCharged
Action Type

Side lever 10 shot magazine
Power

11+ftlbs
Fill Pressure

200bar
Model:

Weihrauch HW110 KT Laminate

SKU:

Weihrauch HW110 KT Laminate

Weihrauch
Make Sure It's Hull Cartridge

NOTE: Hull Cartridge are the official UK distributor for Weihrauch guns. All our Weihrauch guns are supplied and stamped by Hull Cartridge.
WARNING: Any grey imports will have no official UK Warranty.