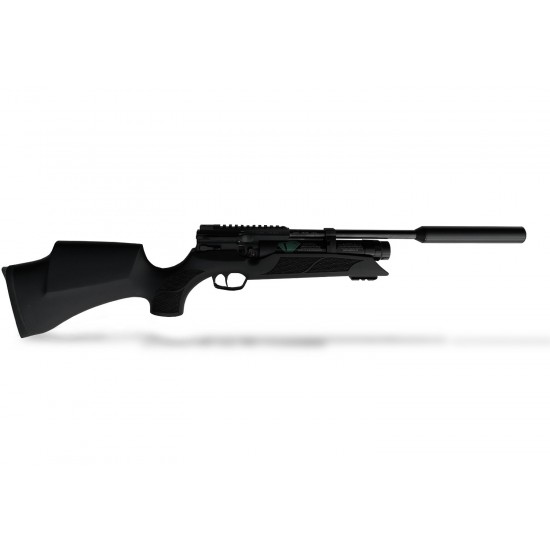 Gun Scopes & Accessories
Images are for display purposes only. Unless stated the price of a rifle may not include scope, silencers or accessories.
Weihrauch HW110K
Weihrauch HW110 was developed as a cost conscious PCP that still delivers that legendary Weihrauch performance.
This model is the carbine (K) and features a shortened barrel, air reservoir and stock, making it an ideal field gun.
In our opinion this is an amazing rifle for pest control. It's so compact and well balanced, quick to target, ultra quite and precise to load and fire.
The HW110 features a revolutionary block engineered from 'weight saving' ballistic polymer which utilises a short side lever action that is precise, reliable and designed so the breech cannot be double loaded. It's two stage trigger is adjustable and crisp and precise, as you would expect from Weihrauch.
The ambidextrous stock is made from Beech which has had a black 'soft touch' rubberised coating. At the fore-end a, weaver rail (for bi-pod fitting) has been mounted (NB. the scope mounting system is also weaver rail). The barrel is screw cut and fitted with a removable ½'' UNF Weihrauch silencer, these are among the best silencers available and this underlines this gun's field pedigree.
Model:

Weihrauch HW110K

SKU:

Weihrauch HW110K

Weihrauch
Make Sure It's Hull Cartridge

NOTE: Hull Cartridge are the official UK distributor for Weihrauch guns. All our Weihrauch guns are supplied and stamped by Hull Cartridge.
WARNING: Any grey imports will have no official UK Warranty.